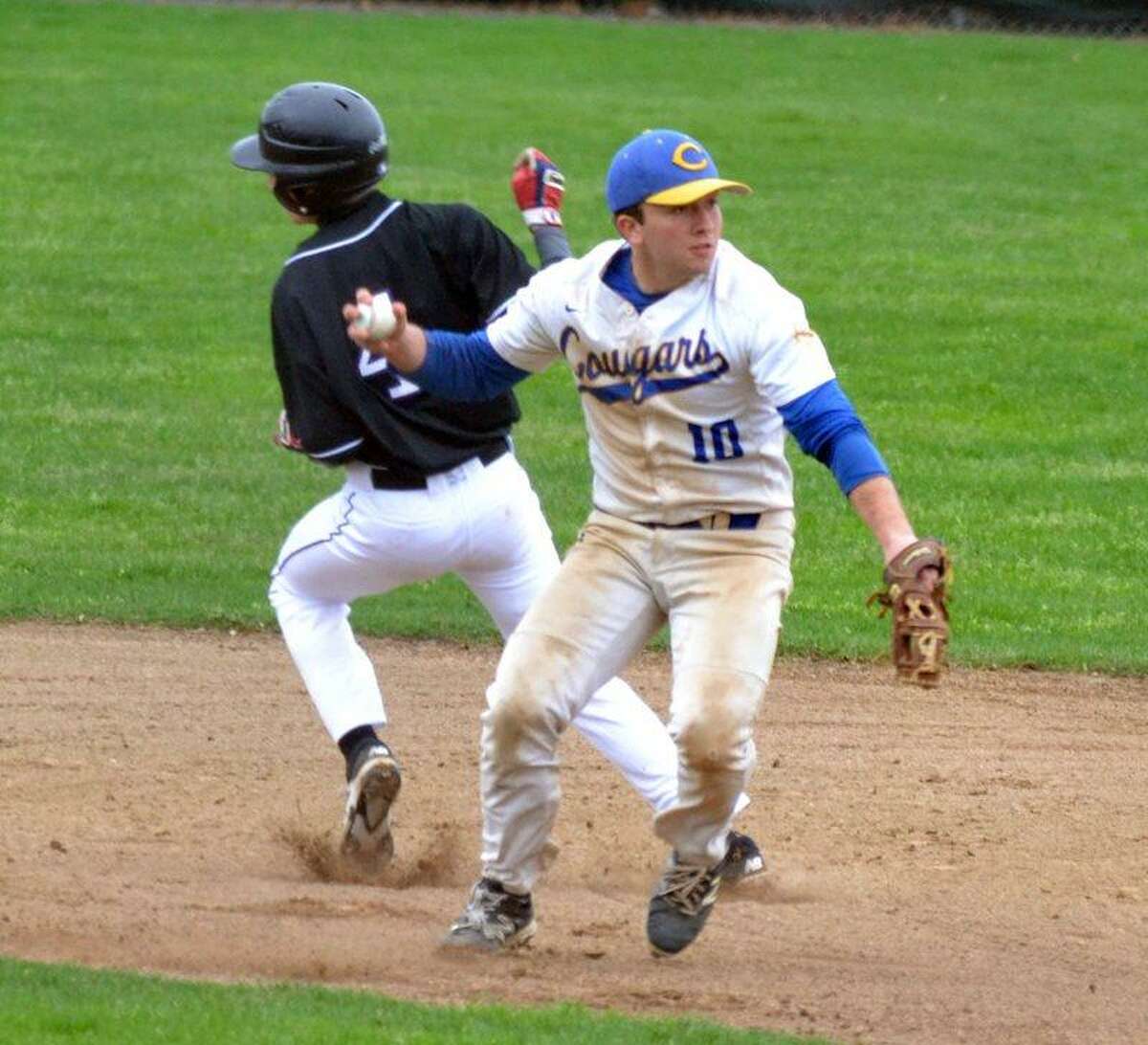 HIGGANUM — The script is simple. Throw strikes, play good defense and take advantage of your opponents' mistakes.
"That's what wins games, right?" Haddam-Killingworth coach Mark Brookes asked, rhetorically.
It has won games for the Cougars.
Including a 4-2 win over Westbrook on Monday afternoon, it has won the Cougars 12-straight games to open the season.
Haddam-Killingworth is one of the final two unbeaten teams left in the state. Shepaug Valley is the other.
"It has, in a way, because our pitching," Brooks said, admitting he has been a little surprised by his team's unbeaten start. "I knew we had Owen (Marcia) and I knew we had Trevor (Rydel). But that's only two pitchers and you need have more than that. With the new pitch count rule, you need to have more than two."
Against Westbrook, Brookes went with Jon Civiello.
"He makes pitches when he has to," Brookes said. "I think he is confident the defense behind him will make plays. We encourage our pitchers to pitch to contact and let the defense do the rest."
That is exactly the way Civiello pitched.
The junior left-hander went 6 1/3 innings and grinded through each inning, striking out six while inducing pop flies and groundballs all game.
"I think you have to focus in and narrow in on what you want to do," Civiello said. "Every pitch counts so you have to keep with it."
Haddam-Killingworth got on the board in the bottom of the third with an RBI single by Owen Marcia. Sam Erskine came around the score after he walked and took advantage of a Westbook error.
"High school baseball is about the team that can limit the mistakes," Westbrook coach Derek Hanssen said. "And capitalize on other people's mistakes. H-K does that better than anyone."
Two innings later the Cougars again took advantage of the Knights' defensive miscues and were rewarded with three more runs.
"Laying down bunts, stealing extra bases, taking extra bases," Mancia said about what the team tries to do every game.
Haddam-Killingworth's Tobey Callender highlighted the inning with a two-run hit.
"They'll key on a weakness you have and they'll exploit that weakness," Hanssen said. "Which they did today with those bunt plays early on in the game. They will try and scratch across a run. They trust their pitching and they trust their defense and they're very successful in doing that."
A four-run lead was more than enough for the Cougars, who, after Civiello ran into a little trouble in the seventh, called on Mancia to close out the game.
The senior did what his team has done the last 12 times: Win the game.
"We're lucky to have him," Brookes said. "He can throw hard strike and change speeds and arm angles out of the bullpen."
HADDAM-KILLINGWORTH 4, WESTBROOK 2
WESTBROOK 000 000 2 — 2 7 3
H-K 001 030 x — 4 11 0
Records: Haddam-Killingworth 12-0, Westbrook 6-5. Batteries: HK—Jon Civello (W), Owen Marcia (7) and Sam Erskine. W—Kyle Robison (L) and Connor Cruz