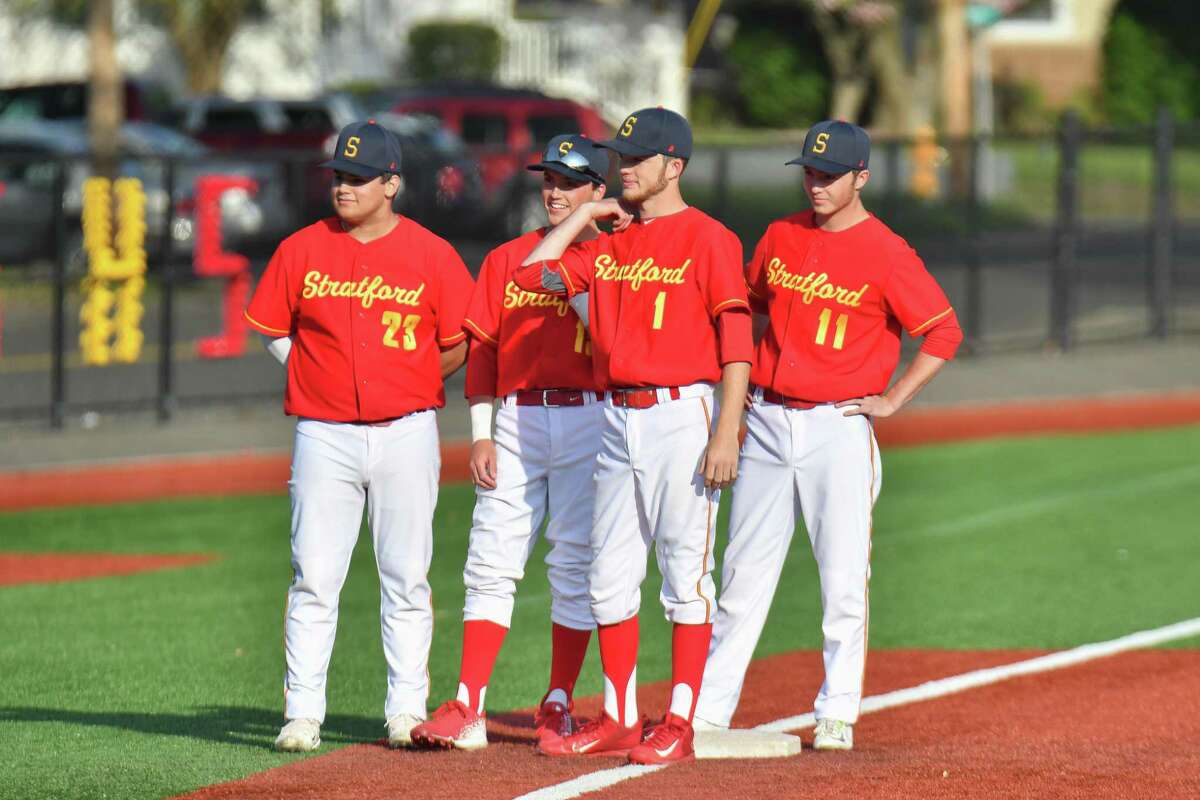 STRATFORD — Newtown shortstop Todd Petersen found a way to make Penders Field look small, ripping an inside-the-park home run off Stratford left-hander Zack Fedak to lead off Monday's game.
It wasn't long before Petersen's teammates joined in on the fun.
The red-hot Nighthawks enjoyed a big night at the plate, extending their winning streak to nine with a 12-8 victory over Stratford.
"We're playing well," said Newtown coach Ian Thoesen, whose team improved its record to an SWC-best 15-4. "I obviously want to keep winning for the state tournament, but also to prepare ourselves for this weekend when the SWC tournament starts."
The Nighthawks are in position to be the top seed after they knocked around four Stratford pitchers for 14 hits. Seven of those went for extra-bases, including a home run, three triples and three doubles.
"I've got to tip my cap to them," Stratford coach Mick Buckmir said of Newtown. "They came out swinging. They hit some hard balls today. They're first place in our league. The way they swung the bat today, they showed it."
Newtown did much of its damage in the third inning, plating seven runs on seven hits to build an 8-1 lead. Five different Nighthawks drove in at least run in the frame, including Eugene Citrano (2-for-4 with a triple, double and three RBIs) and Ben Harrison (3-for-4 with two triples and one RBI).
This RBI double makes it 6-1 Newtown #ctbase pic.twitter.com/ykik32b5B0

— Doug Bonjour (@DougBonjour) May 14, 2018
The Nighthawks scored in five of the seven innings in which they batted, and their 12 runs were two short of a season-high.
"We're going into SWCs with a lot of confidence," said Petersen, who had three hits and drove in a pair of runs. "Everyone's hitting, one through nine."
Petersen's final hit of the night — a two-out RBI single off reliever Braydon Seaburg in the fifth — gave Newtown a seemingly comfortable 11-4 lead. That lead grew to 12-4 before Stratford made things interesting in the sixth, plating four runs off reliever Josh Taylor.
Buckmir believes the ending might've been different had the Red Devils taken advantage of multiple opportunities earlier in the game. They scored only one run in the first inning after loading the bases with no outs, and stranded multiple runners in the fourth and sixth innings.
"The LOB's (unners left on base)came back to haunt a little bit," he said.
Harrison gives Newtown a 2-1 lead #ctbase pic.twitter.com/qtcB7EOZO9

— Doug Bonjour (@DougBonjour) May 14, 2018
PLAYER OF THE GAME
Todd Petersen, Newtown, SS: The junior went 3-for-4 with two RBIs and finished a triple short of the cycle.
QUOTABLE
"You know what it is, it's confidence with our stuff. Orlando's (Swift) one of our aces. We've got him and Kyle (Roche), our top two guys. Orlando didn't have it at the beginning, and then he started getting stronger as the game went along. I thought he pitched well." — Newtown coach Ian Thoesen on right-hander Orlando Swift, who earned the win after pitching five innings of four-run ball.
Well, it could've been worse for Newtown. Stratford loads the bases with 0 outs, gets 1 #ctbase pic.twitter.com/N7Tu02b8HF

— Doug Bonjour (@DougBonjour) May 14, 2018
WRAPPING UP THE REGULAR SEASON
The regular season ends on Tuesday with rivalry games for both teams. Newtown will host Masuk at Fairfield Hills (6:30 p.m.) while Stratford will be back at Penders Field to take on Bunnell (7 p.m.).
NEWTOWN 12, STRATFORD 8
NEWTOWN 107 211 0 — 12 14 1
STRATFORD 100 304 0 — 8 11 1
Records: Newtown 15-4; Stratford 10-9. Batteries: N — Orlando Swift (W), Josh Taylor (6) and Ben Harrison; S — Zack Fedak (L), Kevan Duffy (3), Braydon Seaburg (5), Malcolm Kinder (7) and Ryan Burlone. Highlights: N — Todd Petersen went 3-for-4 with an inside-the-park home run and two RBIs. Eugene Citrano had two hits, including a two-run triple. Harrison went 3 for-4 with two triples and one RBI. S — Logan Zezima had two hits and drove in two runs. Raymond McIlhoney had a two-run single.