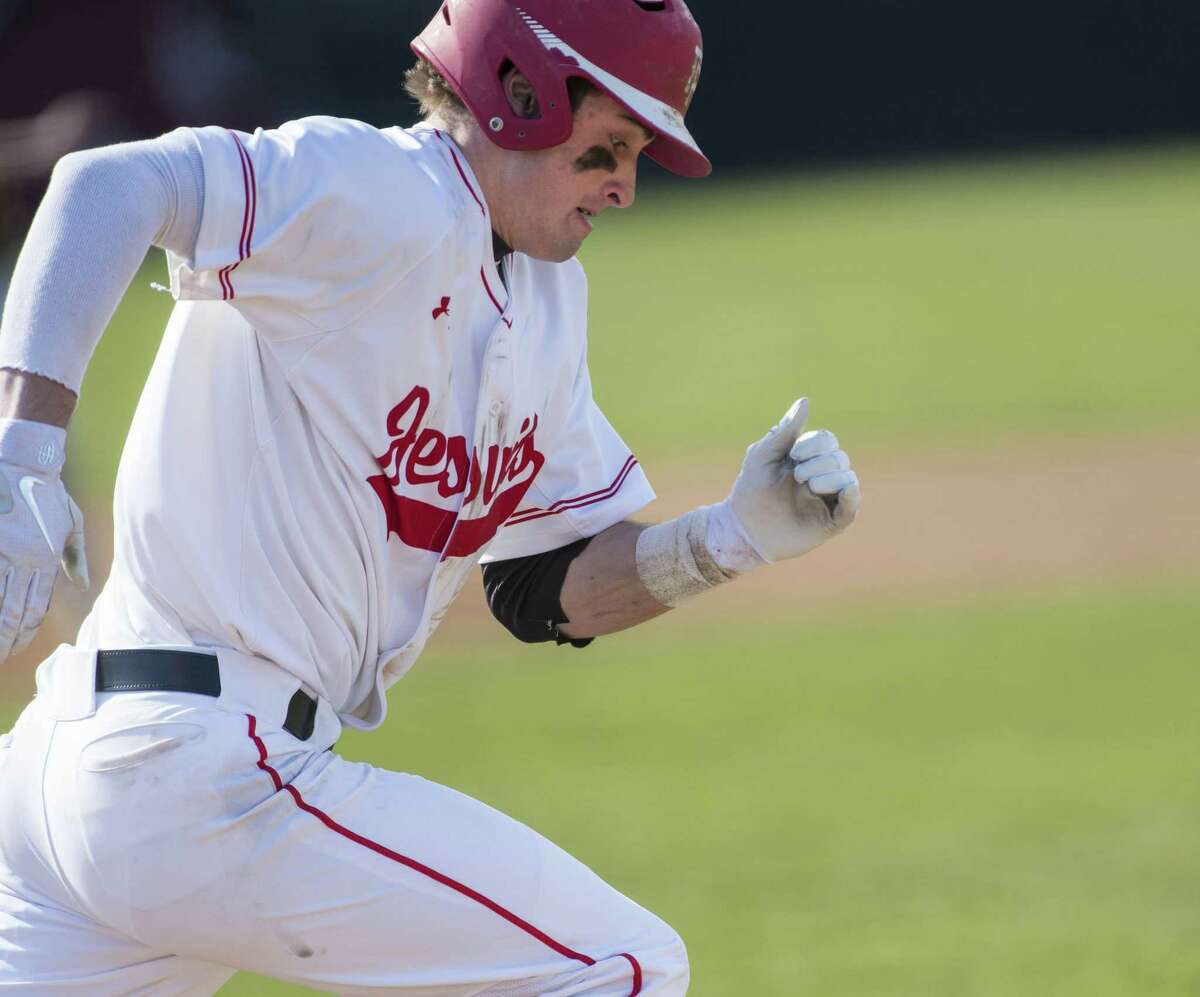 FAIRFIELD — If this had been a road game, it would not have been at all surprising if Will Lucas had climbed aboard the Fairfield Prep bus, grabbed the keys from the driver and taken the Jesuits home. Because the senior did everything else but drive the bus after Prep's comeback victory on Monday.
Lucas went 3 for 5, driving in the tying runs in the fifth and the winning run in the bottom of the eighth while also pitching three shutout innings of relief to earn the victory in Prep's 6-5 win over SCC rival Amity at Alumni Diamond.
"I just try to compete and help the team," Lucas said after the Jesuits posted their first win over the Spartans since the 2015-16 season. "We all did a good job today."
Over the course of Prep's opening four games, it has been Lucas that has been the star of the Jesuits' show. He pitched two innings of scoreless relief to get the victory in the season-opening win over Danbury, also going 2 for 3 with two runs scored and two stolen bases. He had a hit, an RBI, a run scored and a stolen base against Regis (N.Y) and allowed just one hit with five strikeouts, scoring a run and stealing another base in a victory over Greenwich.
Now this.
"He's a very good baseball player," Prep coach Rudy Mauritz said. "He's obviously a talented competitor. He's a very good athlete, quarterback of the football team … he loves the competitive moments and he wants to be out there on every play, Will's hungry like that."
The win continued the Jesuits fast start, now 4-0. Amity, the Class LL runner-up last season after winning four straight state titles, dropped to 1-2.
@amityathletics, ranked #2 in the preseason poll, drops to 1-2 on the season after a loss to undefeated @fairfieldprep. The Jesuits move up to #4 in the new @nhregister / @GameTimeCT Top 10 poll. #ctbase pic.twitter.com/5Wp5Phkhz9

— CT Sports Now (@CT_Sports_Now) April 10, 2018
"We've got a lot of rookies in the lineup, we lost seven out of nine starters so, honestly, I liked our fight today," Spartans coach Sal Coppola said. "There were a lot of positives that I can take from this. I'm disappointed we lost and I'm glad it stings. This is a work in progress, we're hoping to be playing our best baseball at the end of the year."
A single from Amity's Pat Winkle — a UConn commit who had 15 major league scouts in attendance Monday — another single from Jack Balocca, two walks and an error gave Amity two runs in the top of the first. The Spartans lead jumped to 5-0 in the second when John Nolan hammered a two-run single and Balocca added an RBI single off Prep starter Connor Bennett.
Prep, however, answered with a run in the second and two more in the third on a triple by Matt Browne to make it 5-3. In the fifth, it was Lucas with a two-run single to tie matters at 5-5.
"Our (bats) got quiet," Coppola said. "We're facing a legit team over there. They're throwing hard, mid-80s all day, they're bringing it."
In the eighth, Joe Mancini opened with a double off reliver Will Rotko and Lucas followed with a single to left to plate Mancini with the winning run.
"I think the whole team has a never-say-die attitude and I think we put that on display today," Lucas said. "Down 5-0, it's easy to just throw in the towel and say this one is over, but we kept fighting and we kept competing. I'm proud of what our guys did today."
Especially the bullpen. Pupura, Mancini and Lucas combined to allow just three hits and no runs in 6 2/3 innings with eight strikeouts.
"They all did a good job," Mauritz said. "Grant came in a tough spot and some guys, I think, after they gave up a hit to allow them to tack on a couple more runs, would have melted, but Grant stuck with it and did things and held them there. That was good. Joe is a good pitcher as well, a great competitor."
PLAYER OF THE GAME
OK, so he didn't drive the bus home … but Prep's Will Lucas was terrific, going 3 of 5 with three RBI, including the game-winning hit in the bottom of the eighth. He also threw three innings of one-hit scoreless relief. Impressive. Most impressive.
QUOTABLE
"That's really the only message you have, hold them here, be patient at the plate, don't chase and chip away when you can. I think they just needed to be reminded to be patient, be reminded to get their pitch to hit and not to chase the pitcher's pitches, which was what we did early in the game and that was the basic message. — Prep coach Rudy Maurtiz
NOT IN THE BOX
The regular season victory was a rare one for Prep against the Spartans. Amity had won five straight games against the Jesuits dating back to the 2015 season.
FAIRFIELD PREP 6, AMITY 5 (8 INNINGS)
AMITY 230 000 00 — 5 7 0
PREP 012 020 01 — 6 10 1
Records: Amity (1-2); Prep (4-0)
Batteries: A — Ben Lodewick, Michael Ficaro (5), Will Rotko (7, L) and Pat Winkel; FP — Connor Bennett, Grant Pupura (2), Joe Mancini (5), Will Lucas (6, W) and Dan Fallacaro
Highlights: A — John Nolan went 2 for 4 with two RBI and a run scored, Pat Winkle had a hit and a run scored, Jack Balocca had a hit and an RBI; FP — Joe Mancini was 2 for 5 with a run scored, Will Lucas was 3 for 5 with three RBI, including the game-winner in the eighth. He also threw three innings of scoreless relief to get his third win of the season. Matt Browne had a two-run triple