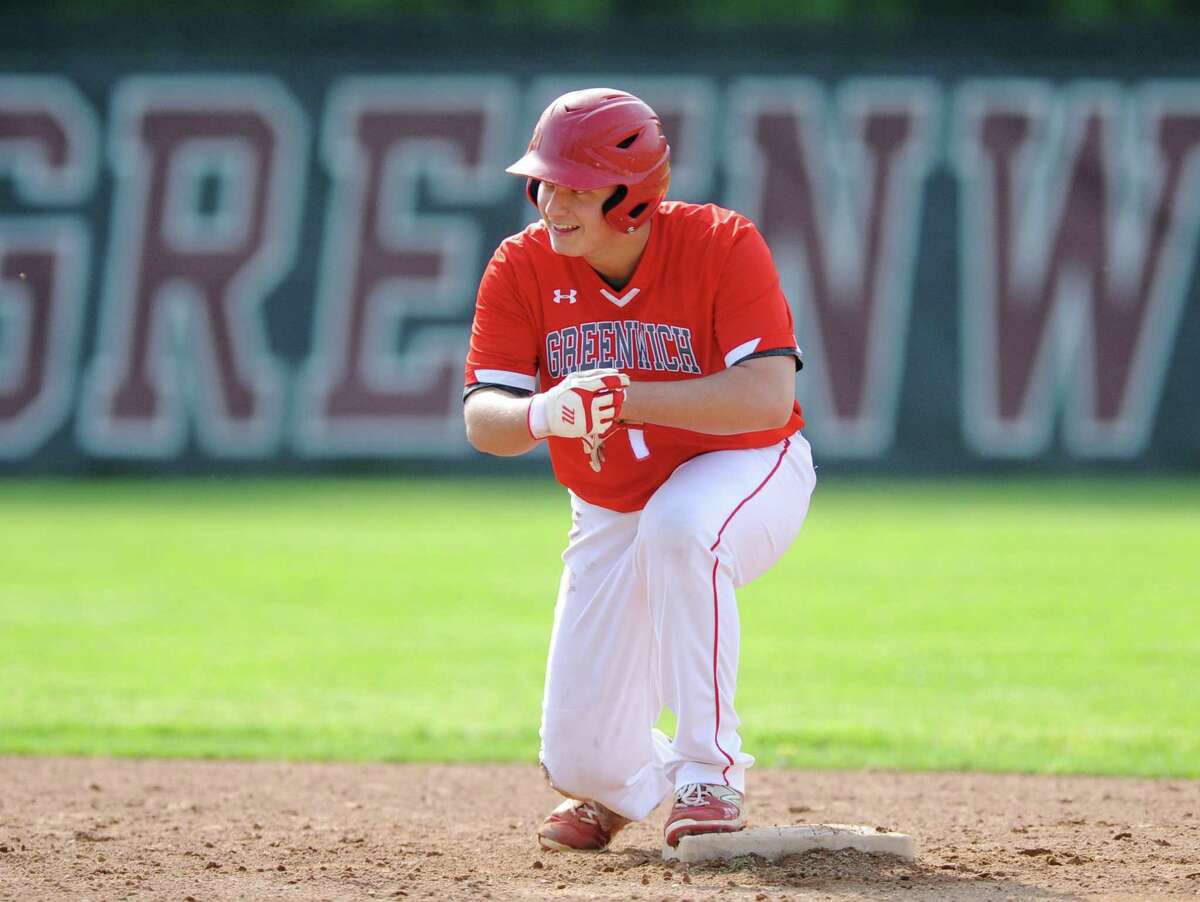 GREENWICH — Entering Monday's crucial, late-season baseball matchup against Trinity Catholic, Greenwich knew it couldn't afford a loss if it wanted to keep its quest of qualifying for the FCIAC tournament alive.
So the Cardinals left nothing to chance.
Scoring one run in the second inning and three more in the third, Greenwich set the tone early in its convincing 8-1 win over visiting Trinity Catholic.
With the victory, Greenwich raised its record to 11-8 overall and 9-6 in the FCIAC with one game remaining in the regular season. With New Canaan, Warde and Ludlowe all losing, the Cardinals have clinched a spot in the conference tournament. Greenwich, which celebrated their Senior Day on Monday, visit Danbury Tuesday in their regular-season finale.
Junior right-hander Ian Colalucci allowed four hits in four scoreless innings for the Cardinals, who pounded out 10 hits against Crusaders pitching.
"We did what we had to do today," said GHS coach Mike Mora, whose squad has won four straight games. "Ian pounded the strike zone, going four strong innings with 50-something pitches. So, if we play Friday in the FCIAC tournament we have him ready to go."
Senior Kyle Woodring had two hits and an RBI, junior Stephen Bennett delivered a three-run double and sophomore Christopher Genaro went 2 for 3 with an RBI to help pace the Cardinals.
"Our focus was on batting, pitching, fielding and playing all-around, flawless baseball and that is what we did," Woodring said. "Ian giving us quality innings gave us that extra boost."
Right-hander Patrick Teasdale pitched three innings, before being relieved by senior righty David Broncati, who also worked three innings for Trinity Catholic (2-16), which was hurt by four errors.
"He came out and threw strikes," Trinity coach Ryan Quinn said of Teasdale. "We made a lot of mistakes in the infield and outfield too, then they had a few bloop hits and it comes back to bite you."
Senior Charlie Povinelli gave GHS a 1-0 lead by hitting an RBI double down the left-field line in the bottom of the first inning. After Colalucci cruised through the second inning, the Cardinals added three more runs in the bottom half of the inning.
Genaro's single drove in senior Hayden Kistler, who singled to lead off the inning, making it 2-0. Junior catcher Cristian Perez and Woodring each added RBI singles during the inning, putting the Cards on top, 4-0. Two infield errors during the inning kept the home team's inning going.
In the third inning, Bennett connected for a three-run, bases-loaded double off Teasdale, upping the Cardinals' lead to 8-0. Senior third baseman Matt Circelli hit a run-scoring single in the inning.
"I got down early in the count and he gave me a curveball, then another curveball in the same spot and I was able to put the barrel on the ball," said Bennett, a second baseman. "We are playing well, so it's nice to, hopefully, go into the FCIACs and states with some momentum."
Junior Cole Imbrogno drove home Trinity's lone run with a single off GHS junior Spencer Pierce in the sixth inning. Colalucci was relieved by junior Luc Thiebeault, Pierce, Jake Mondschein and Charlie Zeeve.
"We couldn't get going, their pitchers had us off balance," Quinn said.
PLAYERS OF THE GAME
Colalucci gave Greenwich exactly what it needed with a solid start. Woodring had a pair of key hits, while Bennett gave the Cards some breathing room with his double.
"Bennett's hit was huge," Mora said. "A bases clearing double helped us put the game away."
QUOTABLE
"We came out hot, kept the lead and received solid defensive play as well," Kistler said. "We have beaten some pretty good teams and we are going to play good teams if we make the playoffs, so we have to continue to play like we are playing now."
GREENWICH 8, TRINITY CATHOLIC 1
TRINITY CATHOLIC 000 001 0— 1 6 4
GREENWICH 134 000 x— 8 10 0
Records: Trinity Catholic 2-15; Greenwich 11-8; Batteries: TC – Patrick Teasdale (LP), David Broncati and Cole Imbrogno; G – Ian Colalucci (WP), Luc Thibeault, Spencer Pierce, Jake Mondschein, Charlie Zeeve and Cristian Perez/Kyle Woodring.