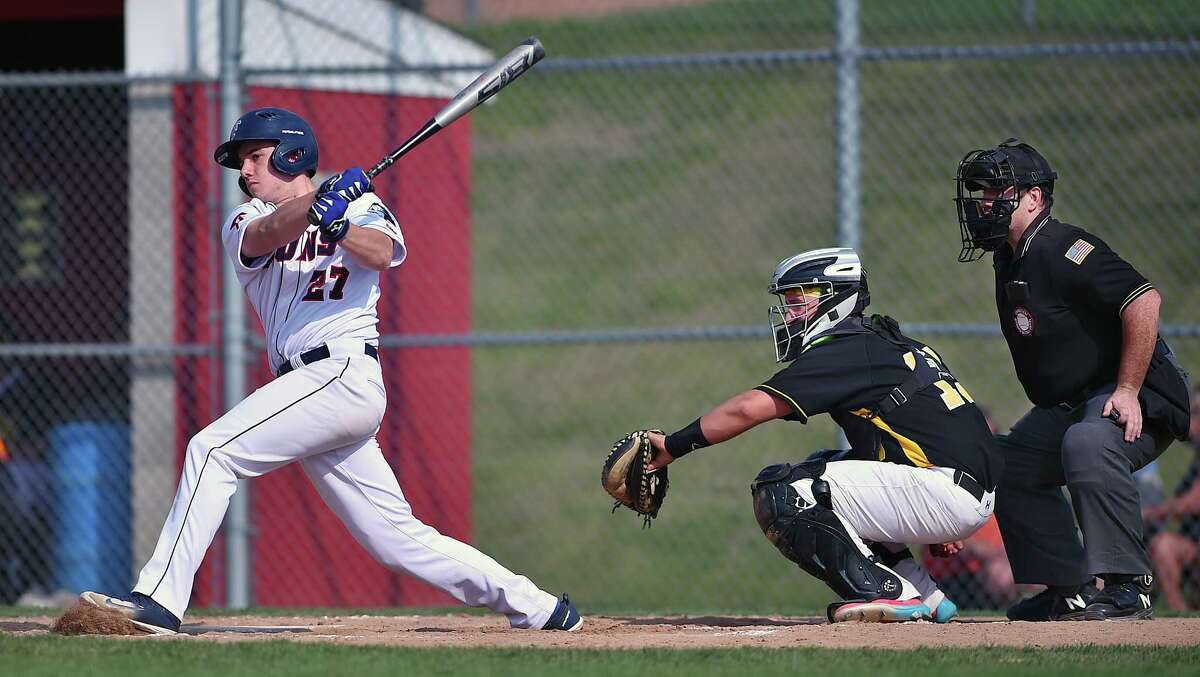 MILFORD — It is no secret both the Hand and Foran baseball teams can hit with the best of them.
That was clearly on display Thursday afternoon when the two teams went back and forth before Foran used a nine-run fifth inning to defeat the Tigers 14-8 in a Southern Connecticut Conference interdivision contest at Ken Walker Field.
The Lions, who have won three in a row, sent 14 batters to the plate in the deciding fifth inning, using six hits and four walks to turn a three-run deficit into a six-run lead against Hand, the third-ranked team in the GameTimeCT Top 10 poll.
"It was a back and forth game," Foran coach Garrett Walker said. "We know they swing the bats really well. I thought we did a great job of that today. When you put the ball in play like that, good things will happen."
With one out in the inning, James Carbone was hit by a pitch, Justin DeEll followed with a single to left, and Jason Giambra, who finished with four hits and four runs batted in, doubled to left to score Carbone. Sam Sinisgalli walked to load the bases, and Ryan Gosselin doubled to left to score pinch-runner Rich Prosser and Giambra to even the game at seven.
After Graeme McGivern relieved Chris Hartmann for Hand, Mark Wootton greeted McGivern with a two-run single to center, giving Foran the lead for good. Shane McCone followed with a long double to center, and after Tyler Heenan walked to load the bases, Kevin Lanese forced in another run with a walk.
After 3 innings, Foran leads Hand 4-2 #ctbase pic.twitter.com/zKjb5lqsUE

— Mike Madera (@MikeMadera2) May 3, 2018
"We did not have the pitching today," Hand coach Travis LaPointe said. "Our pitchers did not have their best stuff today. Today was a day when they swung the bats better than we did. Their pitching did a better job locating and hitting their spots."
Another pitching change by the Tigers, who have lost two straight, provided the same result as Ian Butler walked Carbone to force in another run. When Giambra singled to drive in two more runs two batters later, Foran had a 13-7 lead.
"I wanted to see the first good pitch and hit it as hard as I could," Giambra said. "I just wanted to help the team."
Both teams showed they would hit early on as Foran took a 1-0 lead in the second after squandering a bases loaded opportunity in the first.
Sinisgalli drove in DeEll with a single in the second, before Hand rallied for two runs in the third on a sacrifice fly by Cam Fitzgerald and a run-scoring single by James DeGrasse.
The Lions (9-5) answered with three in the bottom of the inning off Hartmann as DeEll hit a two-run double to score Heenan and Carbone, before Giambra doubled to score DeEll.
"High school baseball is about getting better every day," Walker said. "We are in the process of playing four games in a row and we have taken three."
Hand (11-3) chased Foran starter Jack Greenspan in the fourth with five runs for a 7-4 lead. After Greenspan walked the bases loaded before recording an out, Tyler Griffin relieved and got Phoenix Billings on a run-scoring sacrifice fly for the first out.
With two on, Ed Sweeney hit the first of his two long home runs, this one to left for a 6-4 lead. Sweeney's second homer was a long blast to left center in the sixth. It made him the school's all-time leader in home runs.
McCone and DeEll each finished with three hits for the Lions.
FORAN 14, HAND 8
HAND 002 501 0 – 8 6 1
FORAN 013 091 x – 14 15 2
H: Chris Hartmann (L), Graeme McGivern (5), Ian Butler (5) and Cam Fitzgerald; F – Jack Greenspan (W), Tyler Griffin (4), John Shannon (6) and Sam Sinisgalli
HR: (H) Eddie Sweeney (2)