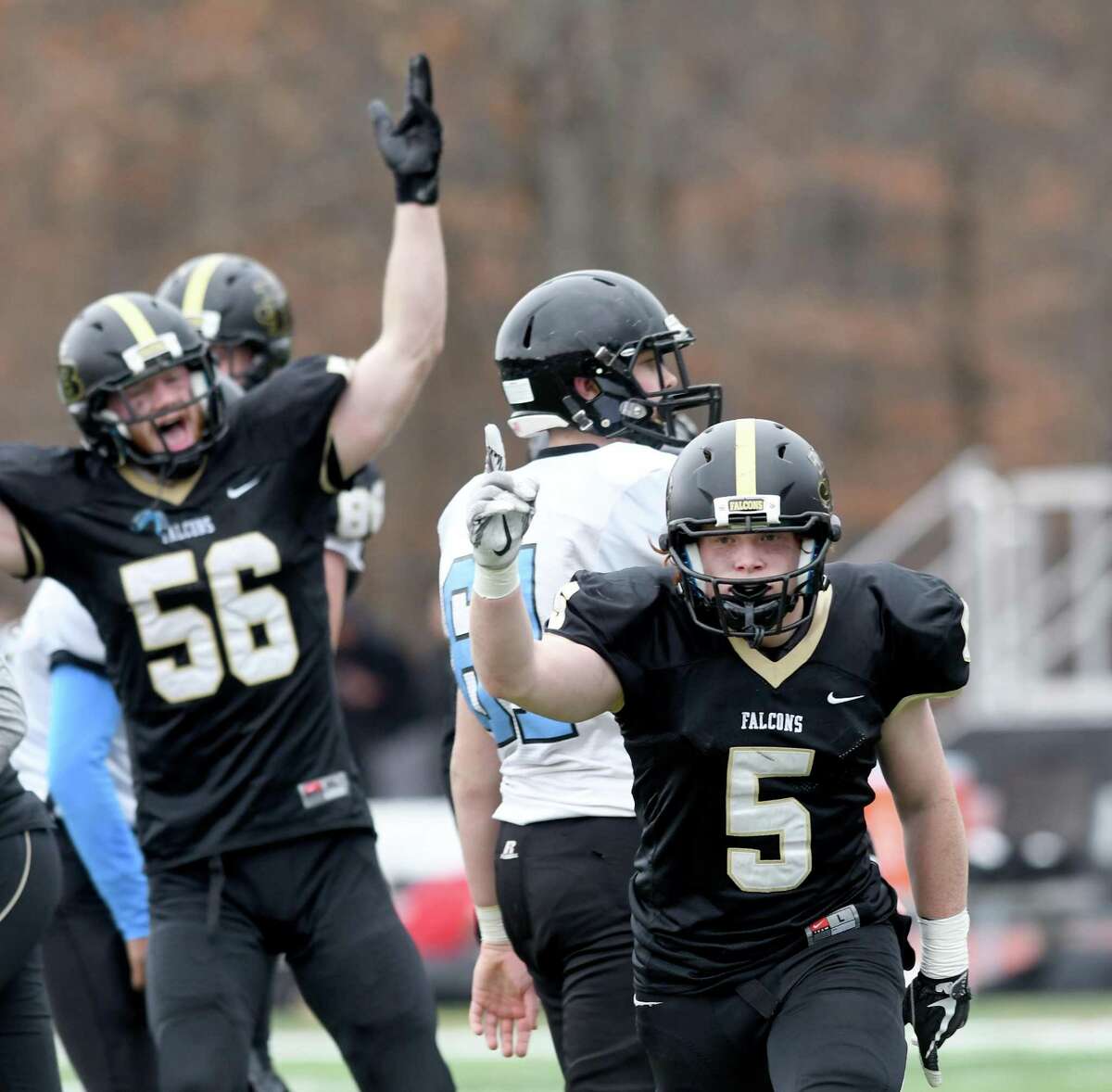 REDDING—As clinical as it was comprehensive, there was no doubt left by Barlow in its Class M semifinal against SMSA/University/Classical co-op Sunday afternoon.
Scoring points on each of its first seven drives, the Falcons routed the visiting Tigerhawks 53-14 to reach its first state championship game. Cal Peterson and Trevor Furrer each scored twice on the round for No. 6 Barlow, which will face top-seeded Killingly on Saturday for the title.
"We're really excited and this was our goal," said Barlow running back Alex Stillman. "But we expect to be here, we worked hard all year and that's why we're here."
Barlow's option offense set the tone from the onset, chewing up positive yards on each play. The Falcons longest run went for 27 yards, the only one more than 16. Sustaining drives masterfully, Barlow took the opening possession 65 yards in six plays for a touchdown and led 21-0 after one quarter.
Cusick takes pitch 11 yards 14-0 Barlow after 2 pointer mid first. #cthsfb pic.twitter.com/OjQHpVRGZo

— Ryan Lacey (@RyanLacey11) December 3, 2017
The Falcons (9-3) scored touchdowns on their first five possessions to take a 35-6 lead. The defense did the rest, bottling up a Tigershawks offense that was even more shorthanded when quarterback Devin Hill got injured early in the third quarter and did not return. The Falcons reserves were sent out after Stillman's 14-yard scamper made it 45-6.
"We were worried about the deep threat with their athletes," Barlow coach Rob Tynan said. "Our goal was to keep everything in front of us and get after the quarterback. We know (Hill) is a super athlete and we wanted to keep him contained."
PEAKING AT RIGHT TIME
Peterson runs it in from 11 yards out to end first quarter. Barlow leads 21-0. 179 rush yards already #cthsfb pic.twitter.com/OOdcTm7xyP

— Ryan Lacey (@RyanLacey11) December 3, 2017
It's hard to recall that the Falcons sat at 3-3 halfway through the season. Barlow's sixth straight win was its most emphatic yet as a late season surge began after a 38-35 loss to Stratford Oct. 20. Tynan received the Gatorade bath Sunday, though the one after next weekend might feel even sweeter.
Barlow has found another level through two state tournament games. The Falcons have scored 100 points and scored points on 14 of 16 possessions with the starters in. Perhaps more importantly, Barlow has yet to turn the ball over those two games.
"It's the reason they call it the triple option, we were giving them a dose of everything (Sunday)," Tynan said. "We hit them with the pitch early, then our fullbacks got going and Trevor (Furrer) does what he does when he's reading it."
Furrer walks in again, caps a 12 play 6 min drive 35-6 Barlow 1:14 left in half #cthsfb pic.twitter.com/Ms3GIVNrbj

— Ryan Lacey (@RyanLacey11) December 3, 2017
PLAYERS OF THE GAME
Danny Brey, Joe Francoletti, Sean Rego, Cassidy Koopman, Will Denny: Barlow. The starting offensive line created holes all afternoon for the Falcons as the positive yardage added up. The Falcons faced just four third downs during their 38-point first half.
"The offensive line doesn't get a lot of credit, but the only way we do what we do is through them," Stillman said. "They make us a great team."
QUOTABLE
"When I started 26 years ago that was the goal to get to," Tynan said. "I was hoping it wouldn't take 26 years; we've had some other good football teams. This is a special group and I'm glad this was the one that got us this far."
BARLOW 53, SMSA CO-OP 14
SMSA0 6 8 0 — 14
BARLOW21 17 7 9 — 53
B—Cal Peterson 2 run (kick blocked)
B—Will Cusick 11 run (Trevor Furrer run)
B—Peterson 11 run (Michael Puglio kick)
B—Furrer 2 run (Puglio kick)
S—Joshua McLeggon 1 run (pass failed)
B—Furrer 7 run (Puglio kick)
B—Puglio 30 field goal
B—Alex Stillman 14 run (Puglio kick)
S—Jaylen Van Allen 13 pass Mark Boyer (Van Allen pass Boyer)
B—Safety (intention grounding in end zone)
B—Jack Preston 1 run (run failed)
Records: SMSA 8-4, Barlow 9-3.