Week 2: Wilton at Staples, Friday, 7 p.m.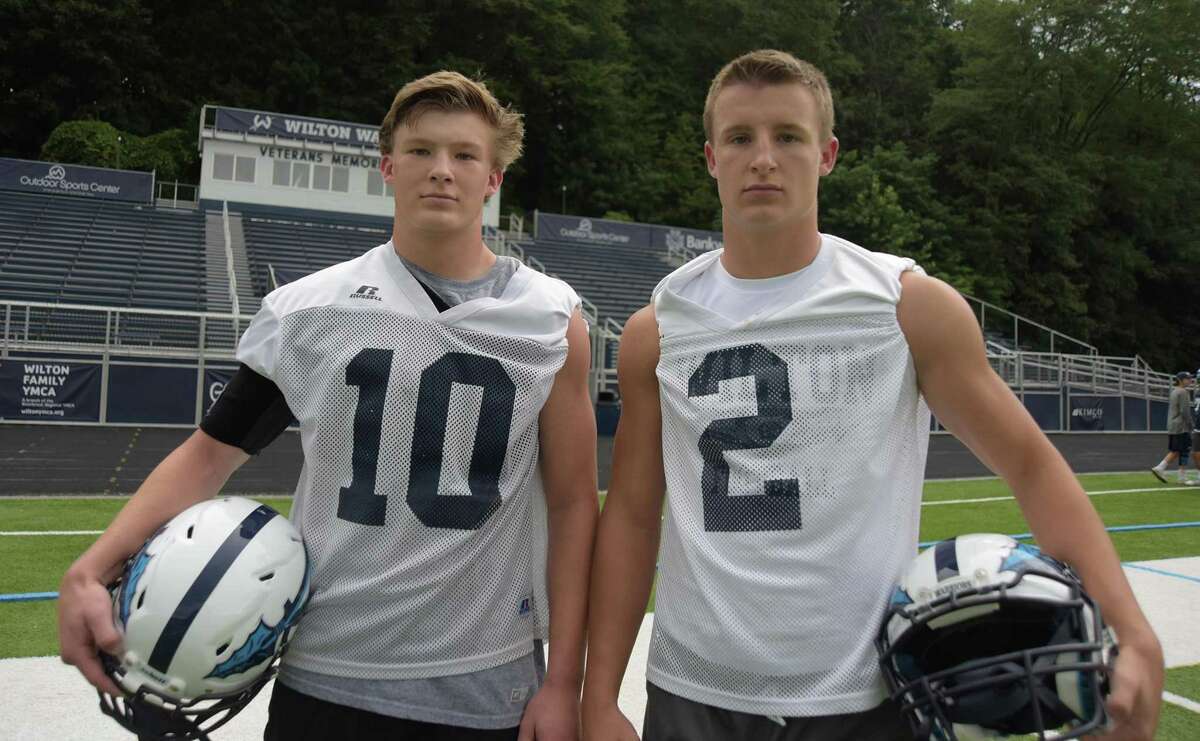 WILTON — Brothers have each other's back.
It's an unwritten rule in the never-been-published family handbook.
For Kyle and Drew Phillips — the latter half of Wilton High's 21st-century first family of football — it's simply a fact.
When a shoulder injury delayed Kyle Phillips from stepping into his spot as the Warriors' starting senior quarterback this fall, somebody had to step up and fill that role.
Enter Drew, the kid brother, a junior and the youngest of his family; the last in line to the throne simply by birthright.
"I pulled Drew and Kyle together in the weight room a couple of months ago and posed the question, 'If things don't go well with Kyle's shoulder, would Drew be willing to step up and take that quarterback role?' " Wilton coach EJ DiNunzio said. "Without hesitation, (Drew) said 'Whatever the team needs.'
"At the exact same time," DiNunzio said, "Kyle was sitting there and said, 'I know he'll do it.' Both kind of answered me at the same time."
In Friday's season-opening 9-0 win over Brien McMahon, it was Drew Phillips who was under center while Kyle Phillips — who has been cleared to play but cannot yet throw at 100 percent — took his brother's place at running back.
"He got the win, so it's an A-plus," Kyle Phillips said when asked to rate Drew's opening-night performance. "That was his job and he did a great job."
On Friday, Drew Phillips will be back as QB1 as the Warriors play at Staples. Kyle Phillips will once again be running the ball.
For Drew, taking on the position was a no-brainer.
"It was definitely for the team first, with my best intentions in mind," Drew said. "If Coach thinks that's the right decision for me to step in as quarterback, that's what I want to do. Before the game, I was realized I was replacing Kyle and that's some pretty big shoes to fill, but there's no pressure. He's always great about supporting me."
Having his brother behind him, both literally and figuratively, helped, as did having him in the huddle and at home.
"We're always talking about football," Kyle Phillips said. "We'll go home and watch film. It definitely helps having him be my brother because I can help him even more often."
DiNunzio knew despite the brotherly competition between the two, the bottom line is that the pair are always there for each other.
"First of all, they're so close," DiNunzio said. "Off the field, on the field, you know they're brothers. One has the other's back and vice versa. They're very tight."
Both are slightly different players, however.
Drew Phillips is the speedier and shiftier of the brothers.
As a running back, Kyle Phillips is willing to run people over for the extra yardage. Drew Phillips has the capability to run people over, his coach said, but is more apt to use his speed to break outside looking for a bigger play.
"That sounds about right," Kyle Phillips said.
"They're both very tough running backs," DiNunzio added. "I'd love to have them both as running backs, but Kyle is capable of throwing the kind of throws we need in our offense."
Both are also students of the game.
"They both know what every position on the field is supposed to be doing," DiNunzio said.
That head for the game no doubt comes from their Phillips family genes, which run deep the Wilton High football program.
The Phillips brothers are following in the footsteps of two already impressive careers by members of their family.
Ryan Phillips was an All-FCIAC offensive lineman and linebacker who took a football player's heart to the next level.
Brett Phillips, a quarterback and All-FCIAC defensive back, followed in his older brother's cleat marks all the way to Fujitani Field.
"We basically grew up living Wilton football," Drew Phillips said. "It's in our blood now."
"We used to sit up in the stands watching our brothers play with their friends and we'd say in 10 years, that's us; in five years, that's us," Kyle Phillips added. "Now, it is us."
The two younger Phillips learned everything they know about the game and competing from their older siblings.
"Ryan and Brett did a great job teaching us about loving the sport, loving each other, loving the team and doing everything we can to sacrifice for the team," Drew Phillips said. "They were great role models in that way and it's why Wilton football means so much to me and (Kyle)."
They also learned that brotherhood can run deeper than blood.
When asked what his family's legacy was going to be at Wilton High, Kyle Phillips replied, "That's a tough question. I think we all see the importance of playing as a team and bringing everybody together. Our parents have taught all of us, even from T-ball and every sport, the importance of brotherhood — not just for us but all our teammates, as well."
When Drew Phillips graduates in 2020, though, only one question will follow the family into the future.
Which Phillips brother was the best Wilton High football player?
"I think we'd all argue it was ourselves," Kyle Phillips said with a grin.