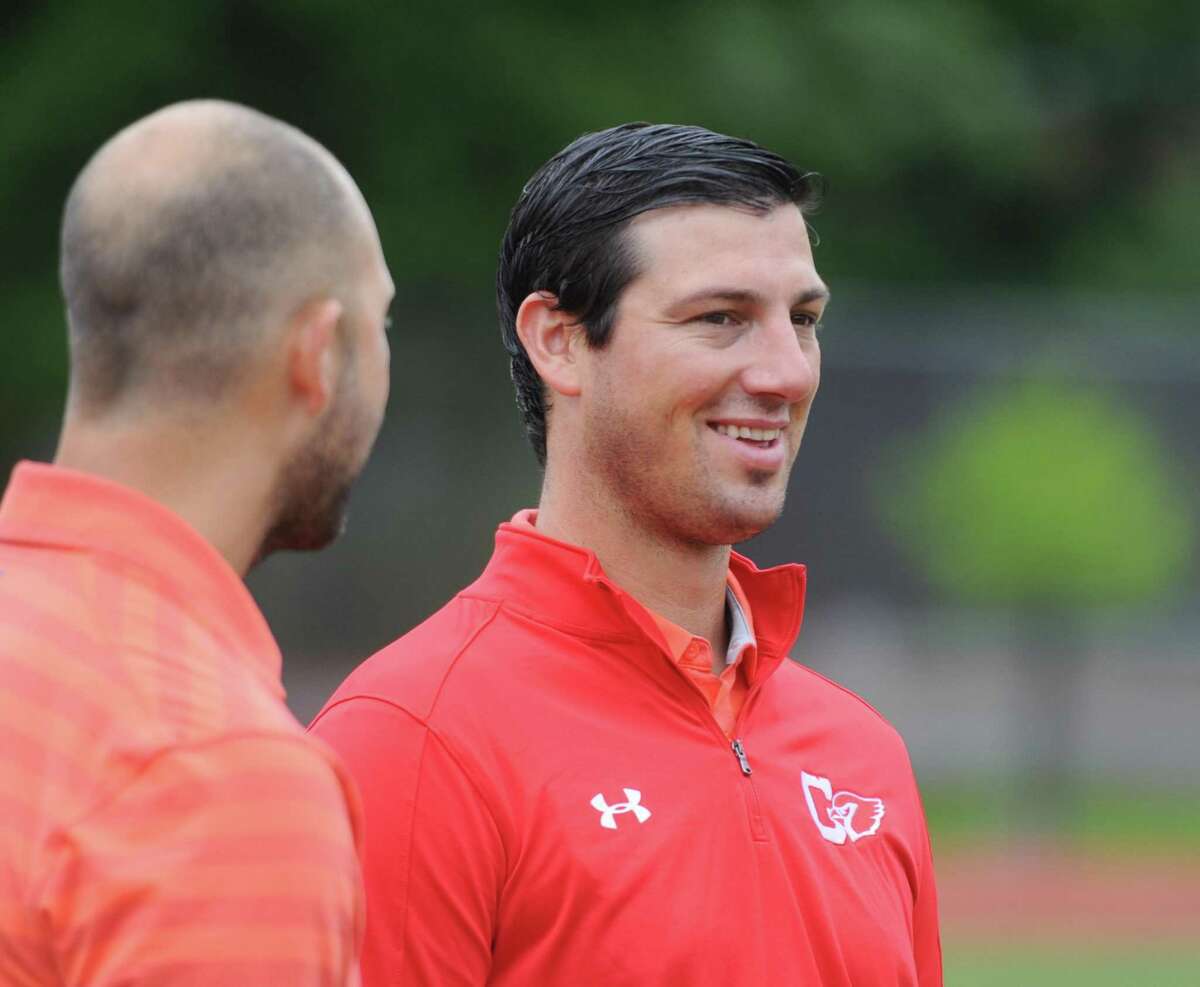 Since taking the reins of the Greenwich football program in 2015, John Marinelli has returned the Cardinals to their place among the state's elite teams.
On Saturday, unbeaten Greenwich will play in a state final for the second straight season, lining up against the New Canaan Rams, the team Marinelli grew up watching, playing for as a quarterback and safety, and coaching for under his dad, Lou.
Emotionally, the game will be anything but easy for John.
"It's still really difficult for me to look over across the sidelines and see the greatest role models in my life — (defensive coordinator) Chris Silvestri, Lou Marinelli — one of my best friends in (offensive coordinator) Dante Correnty and all the guys on that staff," John said. "I have a very good relationship with them and they're family."
"I've been here since before he was born, so his whole life, he's been on the sidelines here," Lou, who came to New Canaan in 1981, said. "When he was 10 years old, Chris Silvestri was his idol and Chris wore the No. 11, which is why Johnny wore the No. 11 his whole career, even in college. He's New Canaan through and through, but once he got out of his comfort zone, he's blown that thing up and right now, they've got to be the best team in the state."
No. 2 Greenwich (12-0) and No. 8 New Canaan (10-2) will clash in the CIAC Class LL final at 10 a.m., Saturday, at Boyle Stadium in Stamford. It'll be the second meeting this season between the two FCIAC teams, as the Cards posted a 42-14 win over New Canaan on Oct. 6 at Dunning Field, dropping the Rams to 3-2. Remarkably, that 28-point difference is Greenwich's closest margin of victory this season.
New Canaan, however, isn't the same team the Cardinals faced the first time around. The Rams have found their swagger and stride, winning seven straight games to improve to 10-2. That includes a three-game run of victories against rival Darien 17-14, top-seeded Shelton 42-34, and No. 5 Fairfield Prep 38-7.
For the two coaches, the game isn't about the father-son match-up, but rather the players on the field.
"Nobody is prouder of what he's done down there," Lou said after the Rams' semifinal win. "But it's really not about us, it's about the kids. Their kids are excited, they want to win a state championship, they just missed last year, and our kids want to win. The two coaches just happen to share the same name."
"I want them to have success and I want them to win, but at the same time, I'm over the narrative," John said. "I followed in my dad's footsteps, chose the same profession, and I'm at a different school now. Playing New Canaan, my alma mater and the place I grew up, is never going to be easy, but at this point, I love where I am. Greenwich is fantastic and I couldn't have asked for a better opportunity."
Tragedy and triumph
Greenwich has looked great all season and that's continued into the playoffs, where the Cards have crushed New Britain 49-13 and Newtown 50-0 to reach the title game.
The tournament has been particularly emotional, as the Greenwich community suffered two losses when the father of senior passed away the day before the quarterfinals, and then, the day after that game, a 14-year-old youth league football player who would've been in his freshman year at GHS, died after a nearly two-year battle with brain cancer.
The Cardinals were hit hard.
"Tragedy has motivated our kids to play for something bigger in the Greenwich community," John Marinelli said. "Our kids are close, and we did a lot of things for that child. The whole community has rallied around that boy and his family since he was diagnosed and those two things just sparked something in our guys that they wanted to play for something more. They wanted to play for their town, that family, and obviously our senior player who lost his father."
With that, an already close team became closer.
"They rally around each other," John said. "They're incredible people, they're great players, and they love to practice and they love to play."