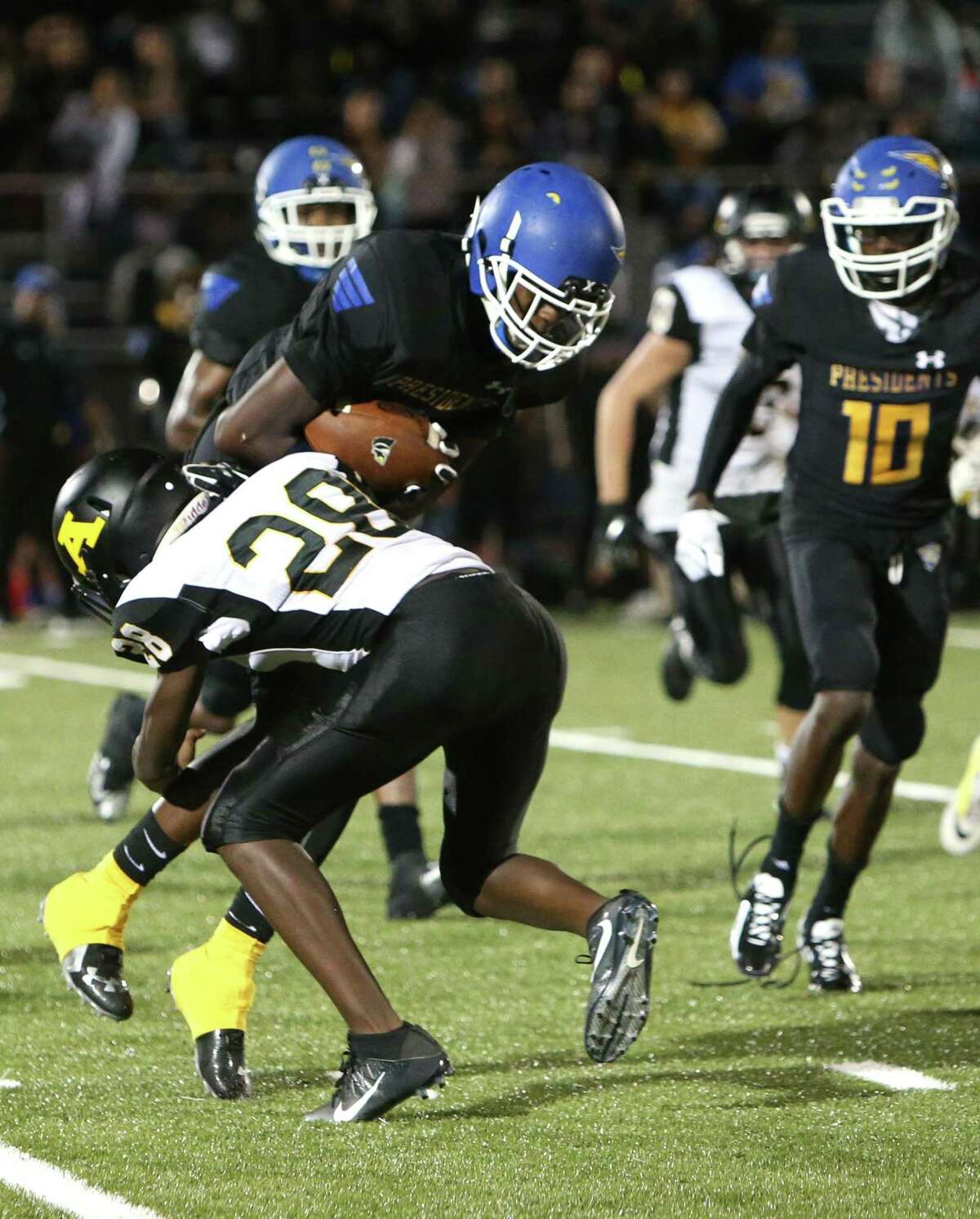 BRIDGEPORT — He took a fumble back 60 yards to help Amity take a win back to Woodbridge on Friday night, and Spartans senior Joe DiGello was still pretty excited afterward.
"I've been waiting since Thanksgiving for this one, dude," DiGello said after Amity's 26-8 win at Harding in the first game at the Presidents' new campus on Bond Street, about a mile away from the old building on Central Avenue.
The Presidents christened John L. Lewis Memorial Field with a pregame ceremony, honoring the family of Lewis, coach at Harding from 1968 to 1989, and with many of his fellow coaches and former players in attendance.
The Spartans came out and controlled the ball most of the first quarter, never trailing.
"They grinded it out. We got a couple of big plays, were fortunate to get a couple of breaks," said Amity coach Craig Bruno, making his debut at the Spartans' helm in the SCC Tier 2 opener.
"I've been at this a long time. They were going hard."
DiGello's 60-yard fumble return gave the Spartans a 12-0 lead in the second quarter.
"I saw Andy Gnidula, the linebacker, get a nice hit on the kid," DiGello said. "I saw it and said I'm just going to pick the ball up and go with it."
It was never a close race to the end zone for DiGello. But the Presidents came right back with a five-play touchdown drive, Kevin Bednarz finding Isaiah Hanley over the middle. The two-point run made it 12-8.
Amity needed three plays to answer, James Laubstein to Jacob Lettick.
The Presidents fumbled their best chance to get back in the game in the last minute of the third quarter
"We've got a lot to polish up. We can't make those kinds of mistakes in the SCC and expect to win the game," Harding coach Eddie Santiago said.
"Turnovers hurt us bad early. The interceptions didn't bother me as much as fumbling the ball."
Laubstein scored the Spartans' first touchdown with 30 seconds left in the first quarter, capping a 12-play, over-seven-minute drive with a 2-yard run. There was only one pass in the drive, a short one near the goal line.
A Mike Young interception on second-and-long set up a Sam Sachs 1-yard plunge late in the game.
Amity limited Harding to 168 yards of total offense, 93 of that coming on three passes.
"We knew they were going to be big and fast," DiGello said. "I think we handled them very well."
Execution wasn't there the way Harding would have liked, Santiago said, and the line let Amity's blitz make big plays.
"We've got a lot to clean up up front," Santiago said. "We thought that was one of our strong points, and it wasn't tonight."
Bruno took over the Spartans this year. He won two state championships with Bunnell and recently spent four years coaching Naugatuck.
"I'm not a rookie," Bruno said with a grin. "I think you can see I'm having fun. It's a great place. We know we've got a lot of hard games, a long way to go, but I'm sure going to enjoy tonight."
Amity 26, Harding 8
Amity 6 14 0 6 — 26
Harding 0 8 0 0 — 8
Amity: James Laubstein 2 run (pass failed)
Amity: Joseph Digello 60 fumble return (pass failed)
HG: Isaiah Hanley 32 pass from Kevin Bednarz (Ja'Harie Mack run)
Amity: Jacob Lettick 49 pass from James Laubstein (Mike Young pass from James Laubstein)
Amity: Samuel Sachs 1 run (pass failed)
Amity (1-0, 1-0) Harding (0-1, 0-1)