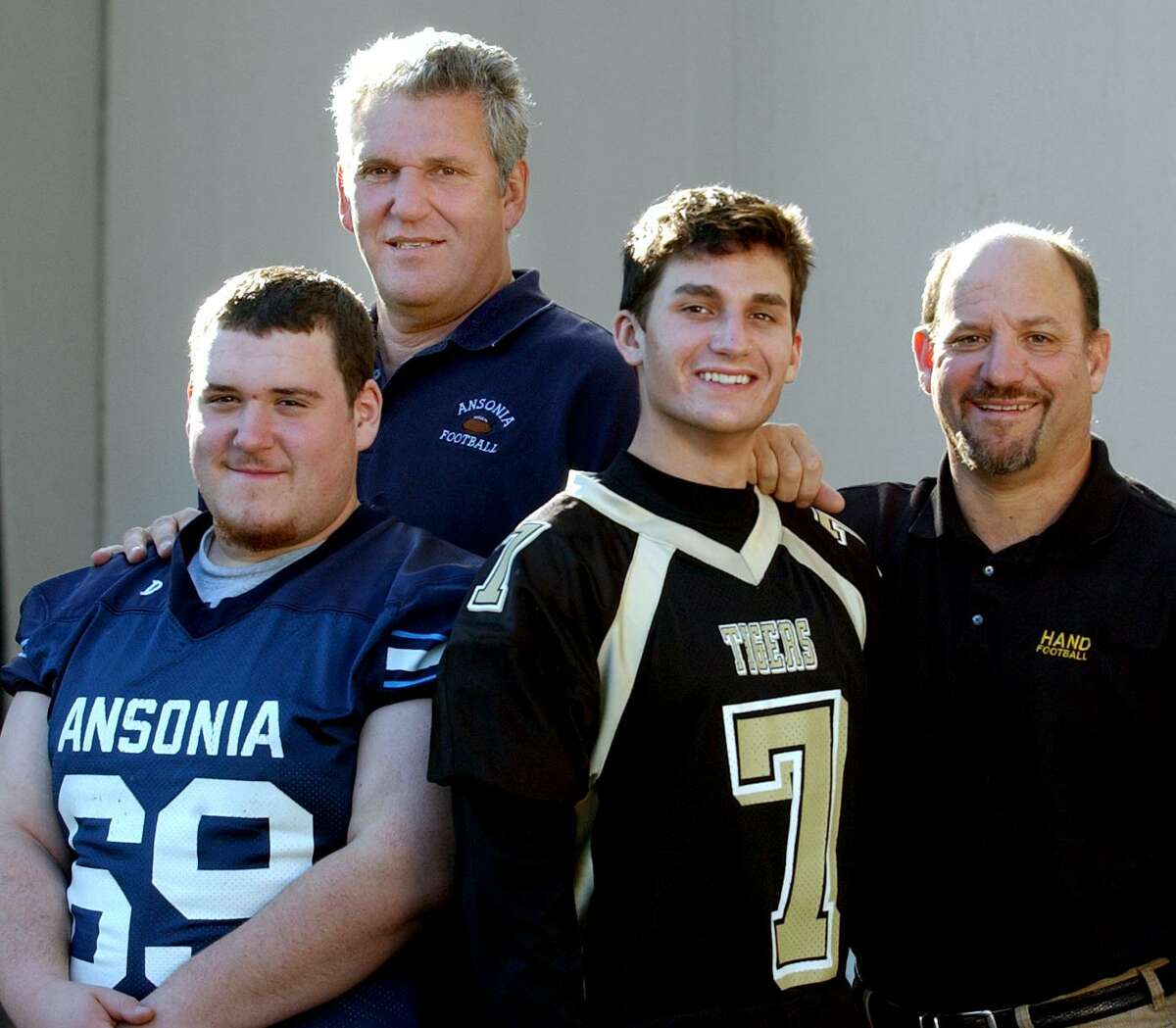 ANSONIA-Standing six feet, seven inches tall and weighing a muscular 350 pounds Jack Hunt was a big man.
As big as he was Hunt's years as football star, coach and mentor are what people remember.
"He was a man who gave so much to the youth of Ansonia," said Tom Brockett, who succeeded Hunt as the High School's football coach and also serves as the athletic director and dean of students. "What he did went well beyond the records he set."
On Friday about a half hour before the Ansonia High football team kicks off their game against Holy Cross, Mayor David Cassetti will preside over ceremonies naming the Jack Hunt Memorial Practice Field.
Hunt died at 66 from esophageal cancer in 2012 just hours before the annual Ansonia-Naugatuck Thanksgiving Day game.
Friday's dedication reunites Hunt with his coach and mentor, Charles "Boots" Jarvis, deemed 'the father of Ansonia football and for whom the high school's football stadium is named. Jarvis spent 29 years as the high school football coach and even longer as a high school history teacher.
The practice field is just steps away from the high school field's north end zone.
"That's fitting," said John Sponheimer, an Ansonia attorney who served as one of Hunt's assistant coaches.. "That (north endzone) area has real affinity to the Hunt family. They always watch games from the north end zone."
Cassetti also will unveil a sign that reads "Coach Jack Hunt: "Championships are won on the practice field."
Hunt knew that. In his 19 years as Ansonia High's football coach his teams appeared in 11 state championship title games winning seven times. Under his leadership his Charger teams compiled 193 wins and only 26 losses. Those wins rank him 13th on the all-time victory list of Connecticut's high school football coaches. He coached 22 first team All Staters two of whom were the state Most Valuable Players and 16 National Football Foundation Scholar Athletes.
In 1995 he was named coach of the year by the New Haven County Chapter of the National Football Foundation and in 2004 by the Connecticut Sports Writers Alliance. He was inducted into the Ansonia Gridiron Club Hall of Fame in 1997.
Hunt also coached golf, track, freshman basketball and softball at Ansonia High.
"Jack was a valuable member of the school district for many years," said Superintendent of Schools Carol Merlone. "During his time at Ansonia High School, he contributed to keeping a safe and orderly environment. Notwithstanding his stature, he had a calm demeanor, which helped to lower the intensity level whenever any issues arose."
Hunt grew up on the city's West Side and through eighth grade attended the recently demolished Peck School. At Ansonia High, he was an all-state football lineman, basketball captain and record-setting shot putter. His athletic achievements continued at Wichita State where he played and learned football from Jimmy Johnson and Bill Parcells—then two young assistants who later became Super Bowl winning head coaches. Hunt took over the Ansonia football program in 1987 and stepped down in 2005.
"As big as he was, Jack had a good rapport with kids" Sponheimer said. "He was the truant officer for the High School and Middle School. He was soft spoken—kind of gentle giant but he let you know when something was on his mind. He kept kids in line."
Sponheimer, who played college football at Cornell and later with the Kansas City Chiefs, stands six feet five inches tall. His basketball games against and with Hunt in the city's summer league filled Nolan Field.
"I consider him a mentor," added Cassetti. "I met Jack in 1973 when he was the truant officer and I was at Lincoln School. I was going through some rough times and he took me under his wing. He got me involved in sports and other activities. He didn't look down on us kids. He treated us very fairly but you knew when you disappointed him.."
Hunt's widow, Denice, served as a third ward alderman for several years but decided not to run for re-election in 2017,.