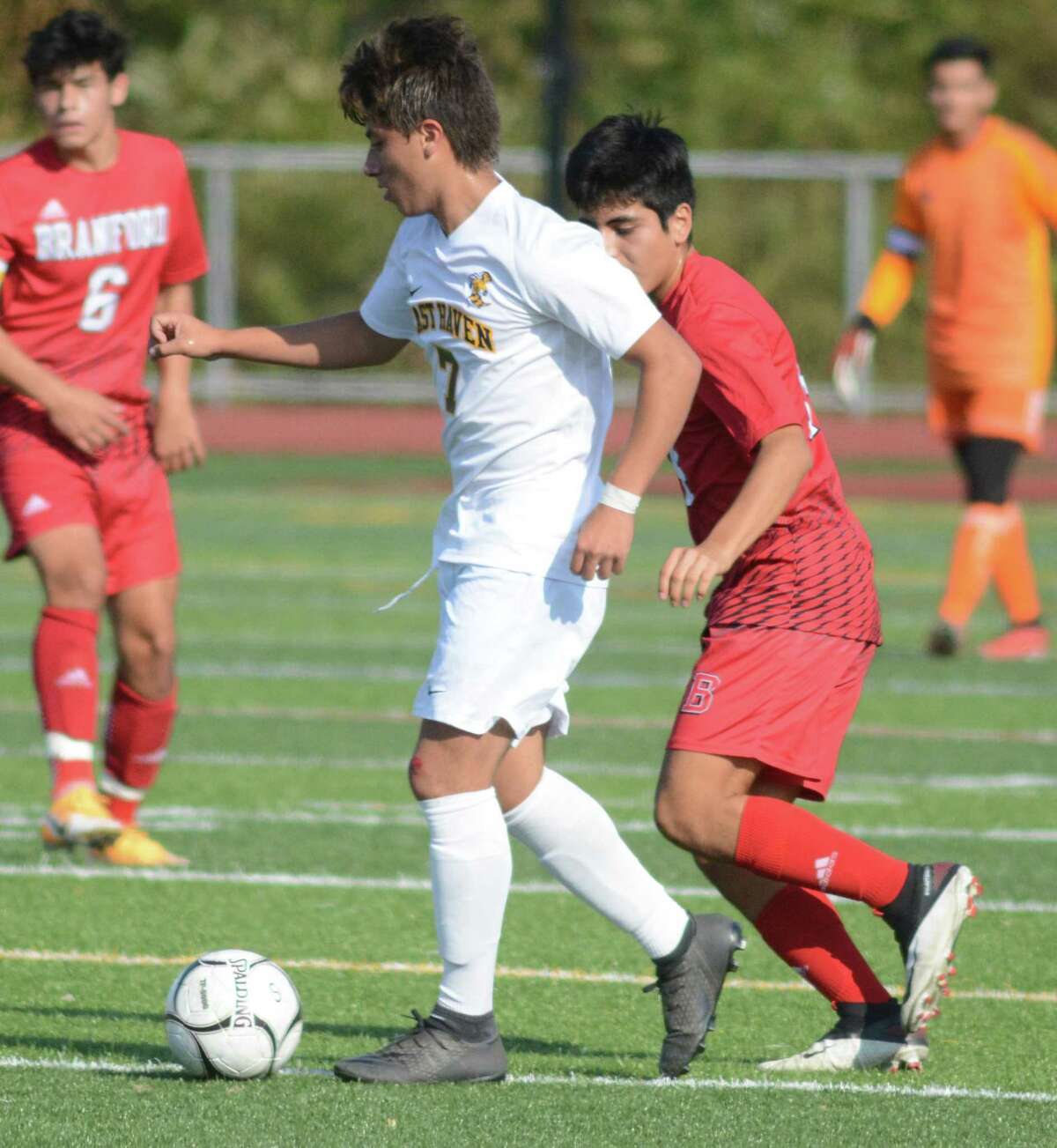 Sean Cafferty, Morgan
As part of a 7-0 win over Coginchaug, Cafferty tallied a hat trick while adding an assist.
SCC Boys Soccer: East Haven 3 Branford 2. Final. Luis Agudelo 2 goals, Chris Torres 1 goal for EH. @EhMens @EhHive @GameTimeCT @SportsTeam8 pic.twitter.com/vH9RF3NvTn

— East Haven AD (@EHavenAthletics) October 27, 2020
Luis Agudelo, East Haven
The senior scored twice as East Haven defeated Branford 3-2 in a SCC game.
SCC Boys Soccer: East Haven 2 Whitney Tech 0. Final, (EH 4-4) EH goals by Leandro Soto Molina. @EhMens @EhHive @GameTimeCT

— East Haven AD (@EHavenAthletics) October 28, 2020
Leandro Soto Molina, East Haven
The senior striker scored both goals for East Haven, which defeated Whitney Tech 2-0.
Isaac Dumeny, Greenwich
Dumeny scored both goals as the Cardinals remained unbeaten (8-0) with a 2-0 victory over Darien.
Scott Testori, Hand
The All-American senior continued his stellar season with another hat trick, this one in a 4-1 win over Branford, moving the Tigers to 8-0-0.
GOAL! Another hat trick for Scott Testori! Chris Porte served a corner and Testori headed it into the back of the net! It's 4-1 Hand in front! (73') #ctbsoc

— Daniel Hand Soccer (@DHHSBoysSoccer) October 30, 2020
Lex Edwards, Law
Edwards scored a pair of goals, helping Law defeat its crosstown rival Foran 2-0.
Spencer Mix, Canton
Mix had a goal and three assists as the Warriors picked up their first win over Suffield since 2004, winning 4-0.
Mike Milazzo, Old Lyme
Old Lyme defeated Cromwell 4-1 with Milazzo putting in two goals and adding an assist.
Nick Washington, Ledyard
The junior had a hat trick and two assists as Ledyard rallied from down 4-1 at the half to beat East Lyme 5-4 in overtime.
Crazy game with @ELSagaSports tonight. Vikings trail 4-1 at half but rally to tie game & send to OT but Daimon Pollard wins it 8 minutes into sudden death. Nick Washington with a hat trick and 2 assists and Pollard with 2 goals and 1 assist. Colonels are now 6-3 on year. #ctbsoc

— LHSColonelsSoccer (@Colonels_Soccer) October 29, 2020
Johan Moon, Ludlowe
Moon scored the game-winning goal from 20 yards out in the second half as the Falcons beat Fairfield Prep 1-0.
Almin Cecunjann, Wilby
Cecunjann scored the lone goal of the game, leading Wilby to its third-straight win, 1-0 over Kennedy.
Drew Monteserin, South Windsor
The freshman scored the game-winning goal as part of a 3-1 victory against East Hartford.