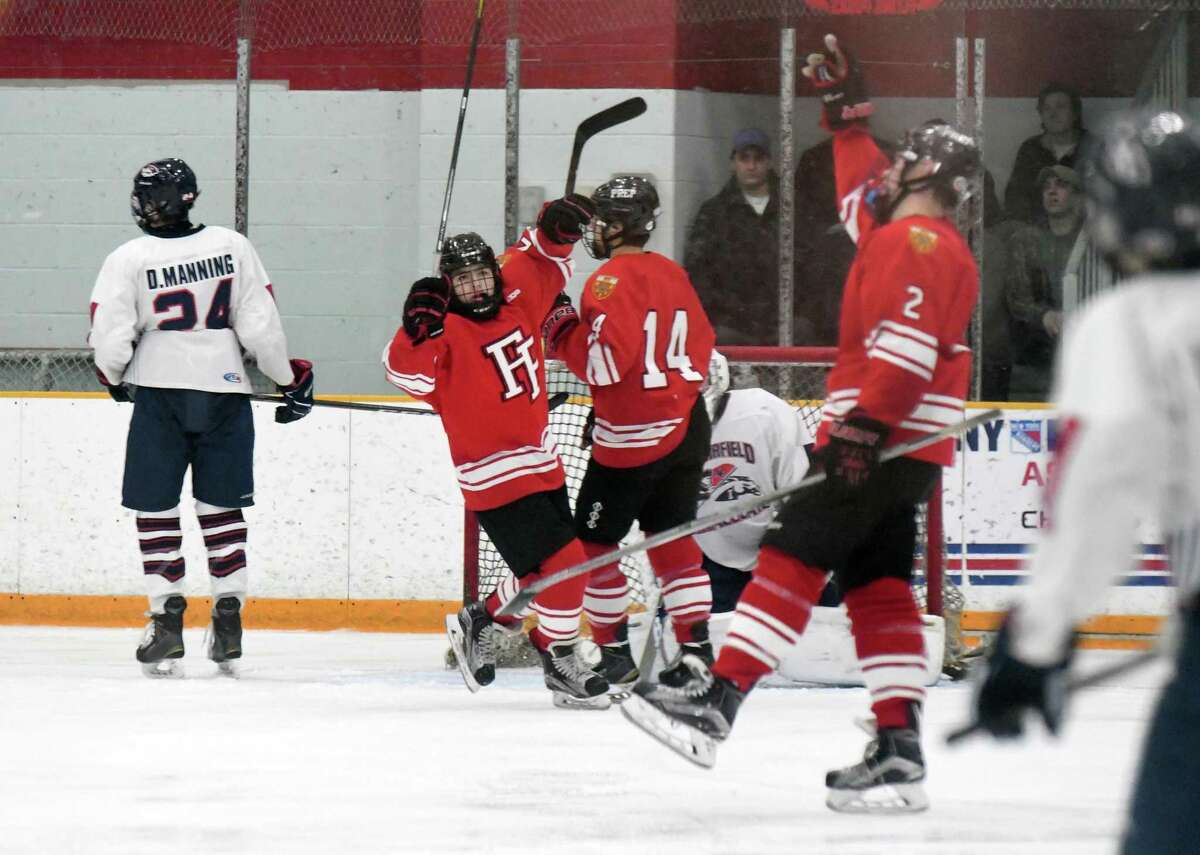 Ryan Antkowiak, Suffield. Senior came up with a few coaches as one of the best offensive defensemen in the state.
Colin Bella, Fairfield Prep. Senior forward scored 22 points for the champion Jesuits last year. "Can be a game-changer," one coach said.
David Brestovansky, Newtown. Senior winger had 22 points and was all-state in Division II for the Nighthawks, who are in Division III this year.
Nick Cullinan, Ridgefield. Senior forward can be a game-breaker. He scored the first goal of the Tigers' championship-game win over Northwest Catholic two years ago.
Matt Davey, Greenwich. Senior forward scored the overtime goal that sent the Cardinals to last year's state final.
John DeLucia, Guilford. Senior forward has made big plays and scored big goals for Guilford on the way to two straight Division II finals. Will play lacrosse at Quinnipiac.
Ryan Fleming, Watertown/Pomperaug. Senior all-state goalie has been a big piece of the Indians' recent success, including their run to the 2017 final.
Will Forrest, Ridgefield. Senior on the top line with Cullinan and Matt Walker, he also scored in the 2016 final, a big piece of their first Division I championship team.
Michael Gethings, Hamden. A big, strong senior forward who was the Green Dragons' leading scorer last year.
Gunnar Granito, New Canaan. Senior forward "has the ability to take over a game," said one rival coach. Great hands and shot.
Shea Henderson, Conard. Senior goalie anchors what could be a strong Chieftains defense.
Brennan Horn, Northwest Catholic. All-state forward as a sophomore ("a beast," said one rival coach), returning to a young, talented Lions team.
Turner Ives, New Canaan. Patient defenseman returns as a senior. Vision and skating are strengths.
Jack Kinahan, Trinity Catholic. All-state junior forward for the thin Crusaders, scoring 32 of his team's 69 goals. Good skater, good hands.
Luke Lappe, Xavier. Plenty of candidates for the list from the Falcons, but the sophomore defenseman has lots of coaches' attention.
Sean Macary, Northwest Catholic. Senior was an all-state defenseman last year for the Lions.
Kevin Millea, Notre Dame-West Haven. Senior will anchor the Green Knights' defense.
Sam Mitchell, NFI. Experienced forward and one of the New Fairfield seniors for whom the co-op chose to stay together.
Ben Nash, Greenwich. Junior goalie has drawn attention from opposing coaches after helping the Cardinals to last year's final.
Ben O'Connor, Cheshire. Senior had 17 points last season to lead the Rams' defense and earn all-state honors.
Henri Pfeifle, Darien. All-state goalie last year as a junior and a key to the Blue Wave's success this year.
Calyb Reeves, Fairfield Prep. Senior forward had 21 points, including 12 assists, helping the Jesuits win their first title in four years.
Kyle Roberts, LHK. Returning all-state forward is a big part of the engine for one of the favorites in Division III.
Joe Romano, Sheehan. The Titans are well-regarded in Division III, and sophomore forward Romano (second-team All-SCC/SWC last year) and twin brother Anthony are two key reasons why.
Owen Stacey, E.O. Smith. Senior all-state forward is the focal point of the offense for the Panthers (no longer the Bucks, after the forcible uncoupling of their co-op).