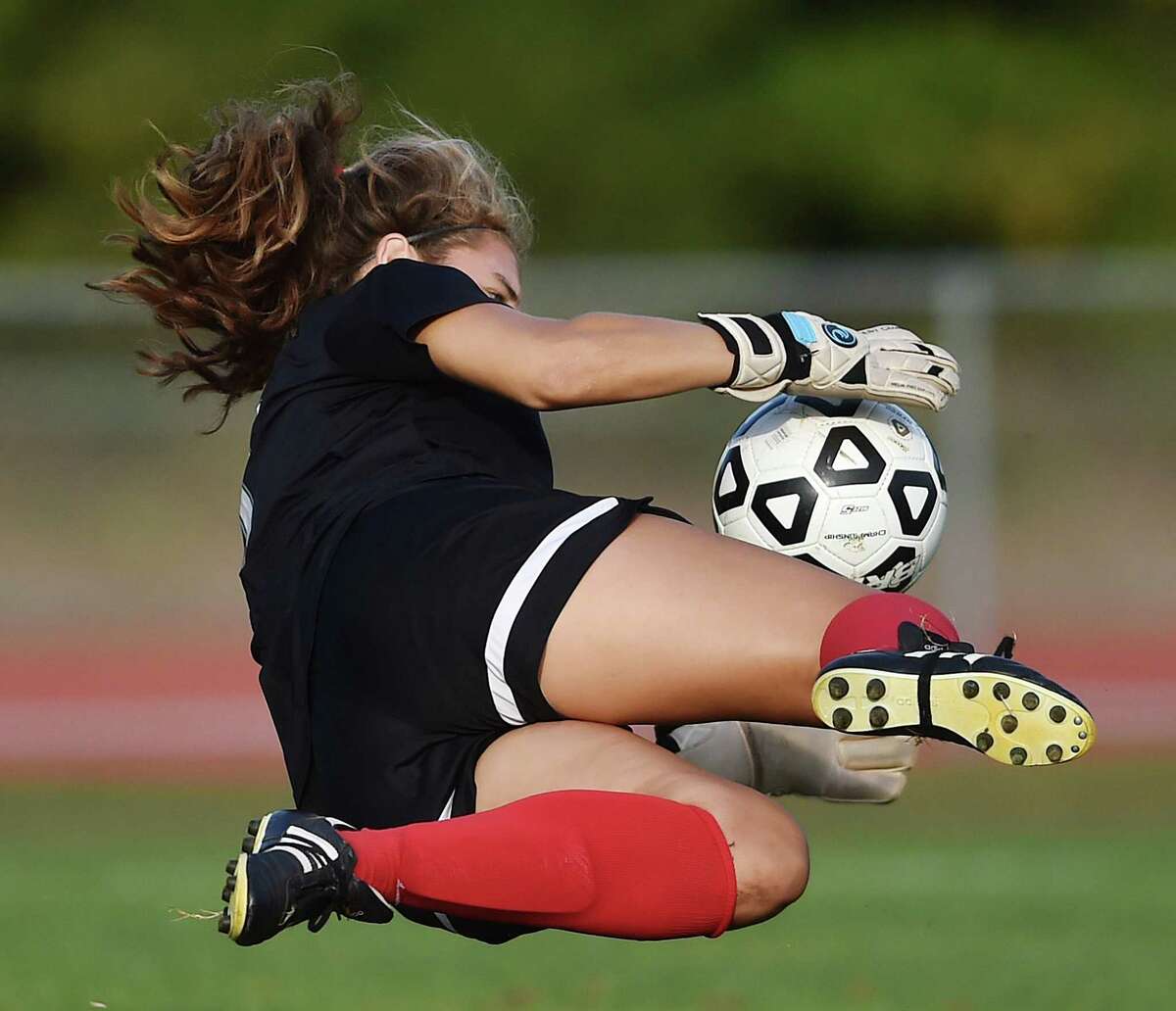 The following are 25 high school girls soccer players to watch for in the CIAC this season. The list includes athletes representing CIAC schools and is in alphabetical order.
Allie Augur
North Branford, Sr., GK: Boston College-bound keeper hoping to lead T'Birds to second straight Shoreline title.
Claudia Benz
Westhill, Sr., M: Hoping to lead Vikings back into postseason play. Will play at Delaware next season.
Giavanna DeLorenzo
Masuk, Sr., F, Sr.: Has 36 goals in three seasons for the Panthers and will be headed to UConn in the fall of 2019.
Corinne Dente
Westhill, Sr., F: Also headed to the ACC in 2019 with a verbal commit to Louisville.
Toni Domingos
Notre Dame-Fairfield, So., F: Won't surprise the SWC opposition this season and hopes to lead Notre Dame on a deep run in Class M and the league tournament.
Olivia Fiori
East Catholic, Sr., F: Last year's leading scorer has committed to play at Central Connecticut State.
Maddie Fried
St. Joseph, So., F: Has already committed to playing in the Big East Conference at Villanova
Alessandra Fronc
Mercy, Sr., GK: Posted eight shutouts for the Tigers last season.
Kayla Howard
Hand, F, Jr.: One of the holdovers from last season's SCC championship team. Scored 14 goals.
Mya Johnson
Old Lyme, Sr., F: Already holds the school record with 81 goals. Scored deciding goal in Class S state championship game last fall.
Erin Keary
Shelton, Sr., D: Helped the Gaels' defense pitch 11 shutouts last season.
Chloe Landers
Glastonbury, F, Jr.: Can excel at both ends of the field and will stay in state and play for UConn beginning in the fall of 2019.
Kacey Lawrence
Masuk, Jr., F: Already has 41 goals and 26 assists and has verbally committed to play at Michigan.
Meadow Mancini
Watertown, Sr., F: Top returning player in the NVL will play at Sacred Heart next season.
Jessica Mazo
St. Joseph, Sr., M: One of three state players on the All-USA Today Preseason All-American Team (Augur, Lawrence). Committed to play at UConn.
Peyton McNamara
McMahon, Jr., F: Key scorer for the Senators already has 26 goals and already knows her college destination: Ohio State in the Big 10.
Claire Middlebrook
Ridgefield, Sr., D: Scored twice in the Class LL state final to help the Tigers prevail.
Kayla Mingachos
Immaculate, M, Sr.: Hearst Connecticut Media All-Area selection a year ago headed to Quinnipiac next season.
Kacey Rolfe
Glastonbury, Sr., D: Coaches all-state selection a year ago for the Tomahawks.
Autumn Smith
Staples, So., M: Was an integral factor in yhe Wreckers' run to the Class LL state championship final as a freshman.
McKenzie Sullivan
Suffield, Sr., M: Coaches all-state pick helped Suffield achieved an undefeated regular season in 2017.
Reese Sutter
Staples, F, Jr.: Another key cog in the Wreckers' offensive attack will play in the Ivy League someday — she has already committed to Penn.
Alijah Vega
Southington, D, Sr.: Two-time CCC selection hoping to lead Blue Knights to another double-digit win season.
Katarzyna Zawadzki
Notre Dame-Fairfield, Sr., D: Sweeper helped lead the Lancers into the SWC tournament semifinals a seaspon ago.
Nina Zwolinski
St Paul, So., GK: Coaches all-state pick already a top flight last line of defense.