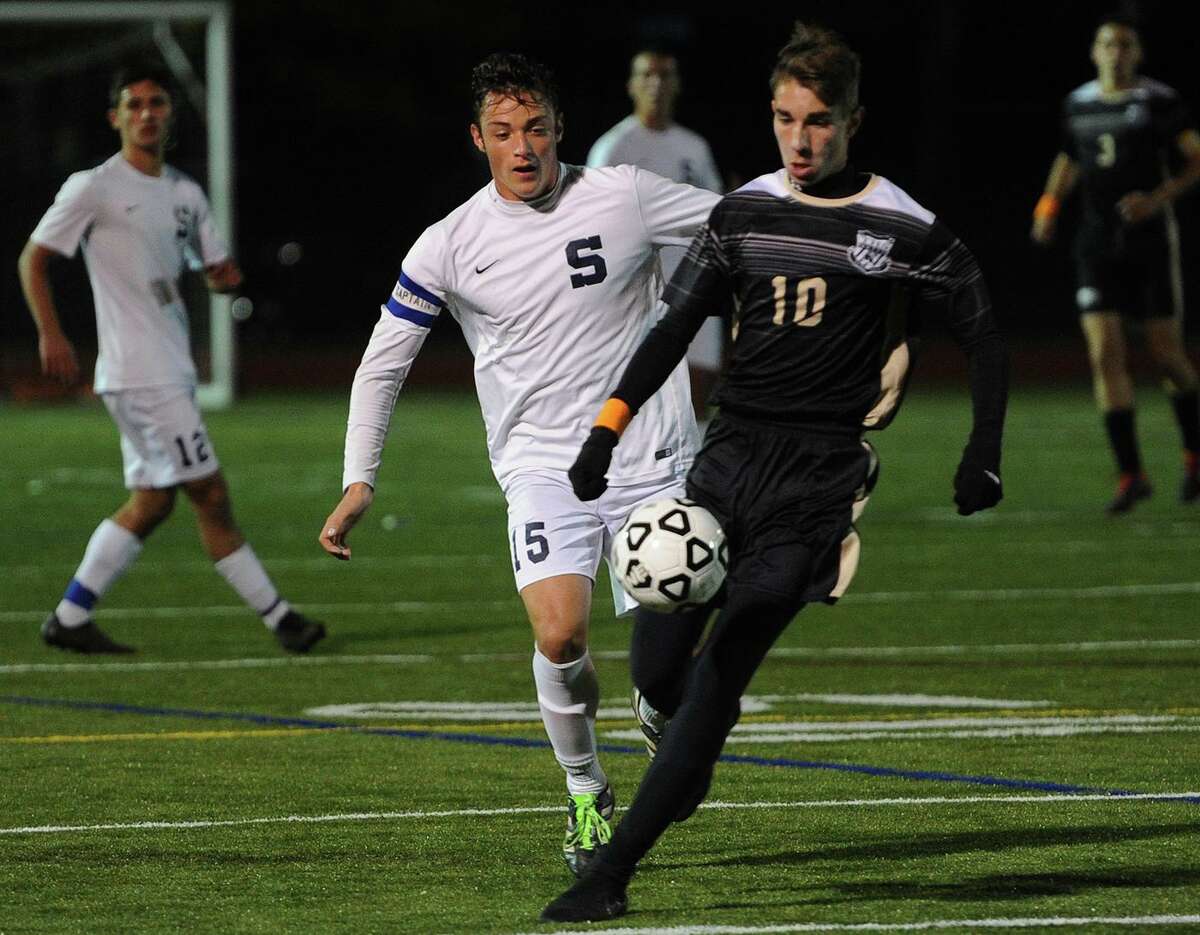 Chris Akinduro, Naugatuck, Jr. F: Two-year starter scored 11 goals with four assists as a sophomore.
Ben Carlson, Foran, Sr. D: Carlson has been chosen for the ODP regional team, making him one of the top defenders in New England. Being recruited by several D-1 schools.
Romi Eldah, Avon, Sr., D: One of the best one-on-one defenders in the CCC will man the center-back position.
Ty Fidrych, Stonington, Sr., F: The All-ECC player scored eight goals with 14 assists for a team that reached the Class M semifinals last season
Tiago Frazao, Trumbull, Sr. M/F: Moving between midfield and attack, Frazao is strong on the ball and can fire shots on goal from distance.
Jose Garcia Mina, Fairfield Prep, Sr., F: The Jesuits top scoring threat from last season is back. Garcia Mina has strong ball-handling skills and can get a shot off in the tightest of spaces.
Patrick Gryczewski, Plainville, Jr., F: All-CCC first teamer with a mesmerizing skill set. He is very quick and possesses high-level ball skills. Being recruited by D-1 programs.
Alec Hughes, Glastonbury, Sr., F: The UMass commit was All-CCC last season, helping guide Tomahawks to the Class LL championship. Very dangerous scoring threat inside the box, especially on set pieces.
Kenly Lalanne, Stamford, Sr., F: GametimeCT All-State second team selection and All-FCIAC pick was one of the most electric scoring threats in the FCIAC with speed and skill on the ball.
Francisco Liguori, Greenwich, Sr., M: All-FCIAC first teamer as a sophomore, was slowed by injuries junior year. Liguori is a box to box center midfielder, a physical presence in the middle, and strong on the tackle but with the ability to score.
Erik Lorent, Shelton, Sr., F: Picked for the GametimeCT All-State second team and All-SCC first-team. Lorent was one of the SCC's top scoring threats with excellent speed and precision shooting.
Max Karkos, Wethersfield, Sr., F: The All-CCC first-team pick scored 12 goals in helping Wethersfield to the Class L semifinals.
Jack Loura, Cheshire, Sr. M: All-SCC second-teamer is great distributor out of the midfield with the ability push up and score when needed.
Emmanuel Ofori , East Hartford, Jr., M: All-CCC first team as a sophomore, the attacking midfielder proved to be a top-flight facilitator, creating scoring chances with accurate passing.
Bryan Osebio, Bethel, Sr., F: All-State selection scored 11 goals during his junior season.
Shon Ryan, Old Saybrook, Sr., M: The defensive midfielder helped guide Old Saybrook to the Class S state championship, being named the championship game MVP.
Charlie Sears Darien, Sr., M: The first-team All-FCIAC selection is a standout defensive midfielder with the ability to venture up field when called upon.
Chris Sederquist, Lewis Mills, Sr., D: Sederquist is a three-year starter, two-time All-Berkshire League pick and the lone starter left from the 2017 Class M Championship team. He's a smart, strong defender.
Pat Sullivan, Glastonbury, Sr., D: Glastonbury did not allow a goal in the state tournament last season, Sullivan's play at centerback was a big reason why.
Scott Testori, Hand, Jr., F: As a sophomore, scored 24 goals and seven assists, including the game-winning goal in the Class L state final, helping the Tigers achieve third-straight state championship. Named GametimeCT All-State, All-SCC, Two-time Class L tournament MVP and New Haven Register All-Area.
Zach Tuccitto, Morgan, Sr., F: Scored 29 goals with 10 assists for the Class S runner-up. Named New Haven Register All-Area and All-Shoreline first team.
Alfonso Vasquez, Windham, Sr., F: One of the ECC's top strikers is a two-time All-State selection and in the running for top player in the state this fall.
Tyler Warren, Danbury, Sr., D: Led one of the state's top defenses as centerback, earning GametimeCT All-State and All-FCIAC honors and being named the FCIAC Player of the Year.
Nick Washington, Ledyard, So., M: Led the team as a freshman with 12 goals and 10 assists playing center midfield. All-ECC first team was the only sophomore selected to the East Region ODP team.
Liam Wilson, Hall, Sr., D: The All-CCC pick will be moving to the backline this fall, securing Hall's defense.