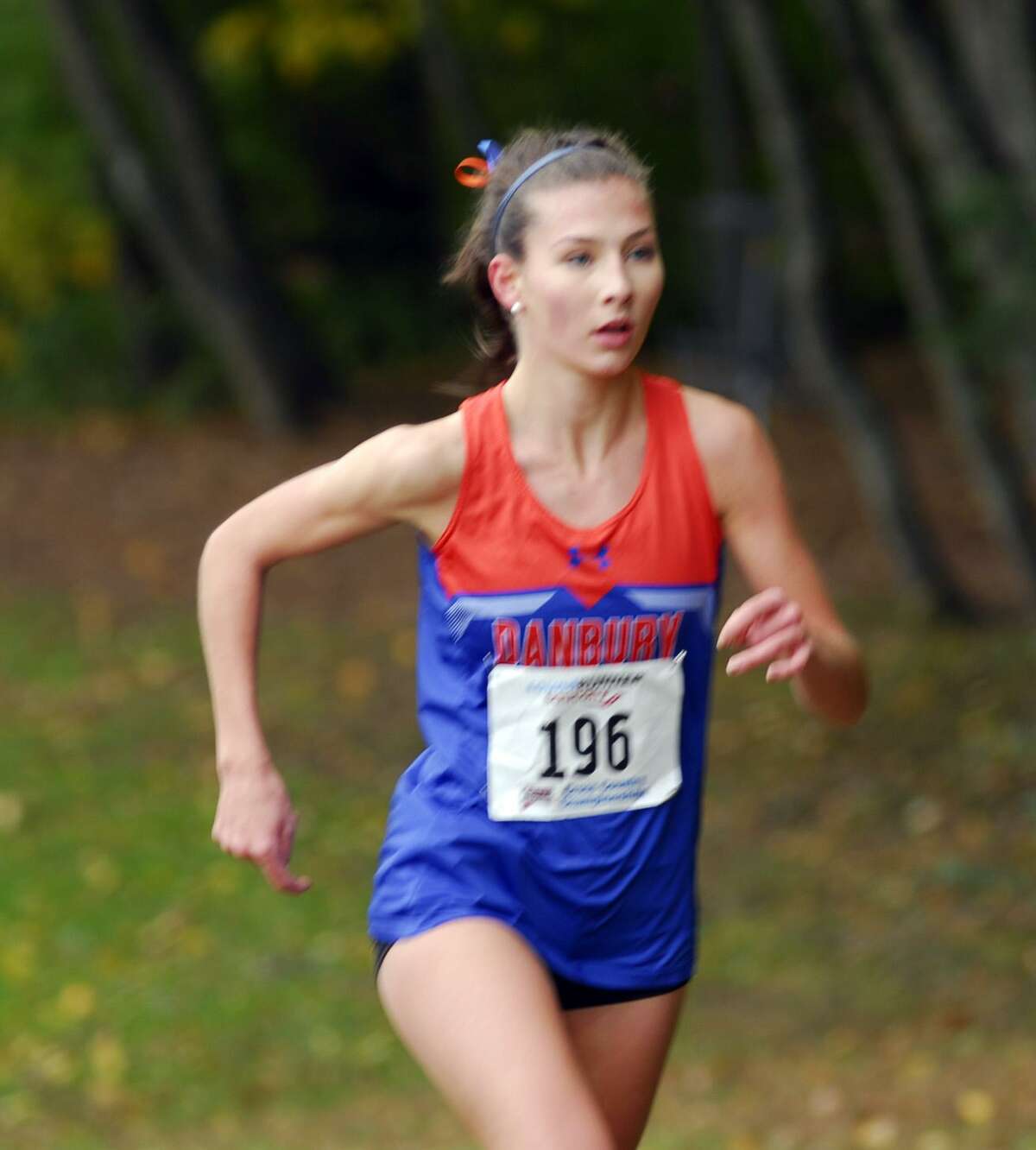 Compiled by Ryan Lacey and Dan Nowak
Class L
New Milford freshman Daniels overtakes Guilford's Bloss; E.O. Smith team champ
New Milford freshman Claire Daniels ensures the Green Wave swept the Class L individual titles as she pulled away from SCC champion Meredith Bloss to win in 18:56. Daniels also made her move up the hill and won by 24 seconds against the third-place finisher from a year ago.
E.O. Smith — which last won in 2015 — won the team title in a very close battle despite the Green Wave dominating the top spots. New Milford went 1-3-4 as Brooke Morabito (19:29) and Kathleen Delaney (19:42) finished in the top five. Shannon Palmer finished 11th in 20:22.
The Panthers won with 76 points while Guilford finished with 80 and the Green Wave 83. A pair of FCIAC schools — Wilton (142) and Darien (143) finished in a close battle for the fourth position. E.O. Smith had all five of its runners finish in the top 22, including eighth-place finisher Miranda Graves.
Another talented freshman popped in the top five as Darien's Mairead Class ran a 19:43.
Daniels — who finished second in the SWC meet to Pomperaug's Kate Wiser — made her move on the big hill at Wickham Park to pull away from Bloss. Bloss' teammate Clara Wiesler finished seventh in 20:00 while Gianna Siciliano was 12th in 20:37 to help the Indians to the runner-up finish.
Class LL
Greenwich's Noble runs away; Danbury dominates
Opportunity knocked for Greenwich's Mari Noble late in the Class LL race, and the sophomore wasn't about to let it slip by.
Noble won the Class LL championship with a time of 18:57, two seconds ahead of the pack. Noble finished second at the Wickham Invite and second at FCIACs before claiming the big win on Friday.
"It feels amazing," Noble said. "I'm just really proud of today and how my team did. I'm just so thankful that I have this opportunity."
Defending champion and Wickham Invite winner Jenna Zydanowicz held a big lead early in the event before the final stages. Noble's fellow FCIAC runners Lauren Moore (18:59) of Danbury and Alessandra Zaffina (19:02) of Trumbull finished in second and third respectively.
"It makes me nervous before the race because I know I'm going to be running against some amazing runners," Noble said. "But there's also a lot of excitement because they push me so hard; just to be able to run alongside them, or slightly in front or behind them is amazing."
But it was the Hatters who had the final say. They claimed the team title in emphatic fashion, winning with 56 points while second-place and defending champion Glastonbury had 97.
"They've earned this," said Danbury coach Marsha Turek. "They've worked very hard since last year at this time and they're very pleased. Everybody did their job; there were a couple of moments where one or two were falling off but they were able to regain their mental toughness and move back into the position they were supposed to be in. The only talk I gave to them before the race was run the race like you're running with your friends."
Fresh off claiming the FCIAC title, Danbury dominated again Friday. The Hatters' five runners all finished in the top 17 as Daniella Grullon Pena finished ninth (19:45), Alex Chakar finished 12th (20:00), Meilee Kry was 16th (20:06) and Cassandra Sturdevant was 17th (20:07).
"We've all come close together as a team," Sturdevant said. "We all push each other in workouts every day to have this great pack; we've been racing really well together and bouncing off each other's energy."
Moore's time was a personal best ahead of what should be a very competitive State Open next Friday.
"Almost everyone PRd and we definitely won by a lot," Moore said. "Everyone just had a great day."
FCIAC schools also rounded out the team scores as Ridgefield — led by a 4-5 from Tess Pisanelli (19:16) and Gabriella Viggiano (Ridgefield) — snared third place with 120 points. Greenwich finished fourth with 125 while Trumbull had 135.
Class M
Stockman runs away from competition; New Fairfield team champion
Elizabeth Stockman likes to run by herself, and she certainly did that in the M race.
Stockman led start to finish and won the Class M title easily in 18:45, her best time for the 2018 season. Mie Axelsson of Weston was second in 19:37 and Hazel Hudson of New Fairfield was third in 19:42.
"Sometimes I like it when I go out and I'm running by myself," Stockman said. "It gives me a chance to think about my time. Like I always do, I focused on the first two miles and closed the race. I'm happy with my time, it was my best time this season. Last year my best was 19:15."
New Fairfield won the team title with 65 points, Weston was second with 114 and Suffield was third with 123.
Class MM
Wiser dominates in MM, leads Pomperaug to team championship
Kate Wiser of Pomperaug does her best running when she takes an early lead. She took the lead at the start of the Class MM race and pulled away to win in 18:32. Juliet Bussell of Brookfield was second in 19:41 and Peyton Bornstein of Tolland was third in 19:49.
"I like to lead," said Wiser, who won the South-WestConference meet. "I went out hard at the beginning and then with two miles I pulled back a bit. I have a calf issue and I really didn't want to push it so I could be ready for the State Open.
"I was second in this race last year, so to get this win means a lot to me."
Wiser led Pomperaug to the team title with 39 points, Tolland was second with 70 and Avon third with 86.
"I figured the team title would down to us or Tolland," Pomperaug coach Mark Goodwin said. "Kate Wiser ran a great race and our seniors came through. But we also got clutch performances from our sophomore Amanda Kugler, who came in 13th (20:45).
"When you have a lot of experience it really helps the underclassmen and getting them prepared. This is a good springboard for the State Open. We like to take it one race at a time and that's our focus now."
Class SS
Wolcott's Rodrigues victorious, girls team gives Immaculate team sweep for titles
Kathryn Rodrigues of Wolcott took the lead at the start of the race and pulled away the last two miles to win in 19:02, a personal best time for her over the 3.1-mile course.
"My plan was to take the early lead," Rodrugues said. "I didn't look back to see if anyone was behind me, but I didn't feel challenged the whole race. This feels so good."
Last year, Rodrigues was eighth in the Class M race.
Emma Anziano of Haddam-Killingworth was second in 19:33. This was the first time she was healthy the entire season and it was a big reason for her second-place finish.
"I knew I could do this well, but in previous seasons I always had injuries to deal with," Anziano said. "This strong finish really gives me confidence going into the State Open.
"Early in the race I was in a pack of five runners. I broke away with two miles to go and just kept going,"
Angela Saidman of Immaculate was third in 19:42 and Ailene Doherty of Immaculate was fourth in 19:50 and they led the Mustangs to the team title with 31 points. Haddam-Killingworth was second with 78 points.
"This is a great for Immaculate with both our boys and girls winning team titles," Immaculate coach Brian Hayyes said. "Our girls have been doing great all year. Angela Saidman has been a strong runner for us. But Natalie Dudas really came through for us too (11th place, 20:34)."
CLASS S
Somers' Raymond repeats, Derby team champs
Somers standout Kylie Raymond won her second straight state championship, this time coming in Class S after winning Class SS a year ago. Raymond's time of 19:32 on Friday was close to a minute ahead of the pack and a competitive time in any class.
She beat Hale Ray's Emily Sienna, — the top returner in the race — who finished with a time of 20:12, over a minute faster than her time in the event a year ago.
Derby took the team title with 89 points as all five runners placed in the top 32 while Shepaug finished second with 89 points. Hale Ray (129), Somers (142) and St. Bernard (175) finished in the top five.
Just two seniors finished in the top 18 as five freshmen finished in those spots. Freshman Eilish Foy from Shepaug finished third in 20:23 while a pair of Derby teammates — Cassidy Ngaopraseutsac and Sabrina Hanock — rounded out the top five.