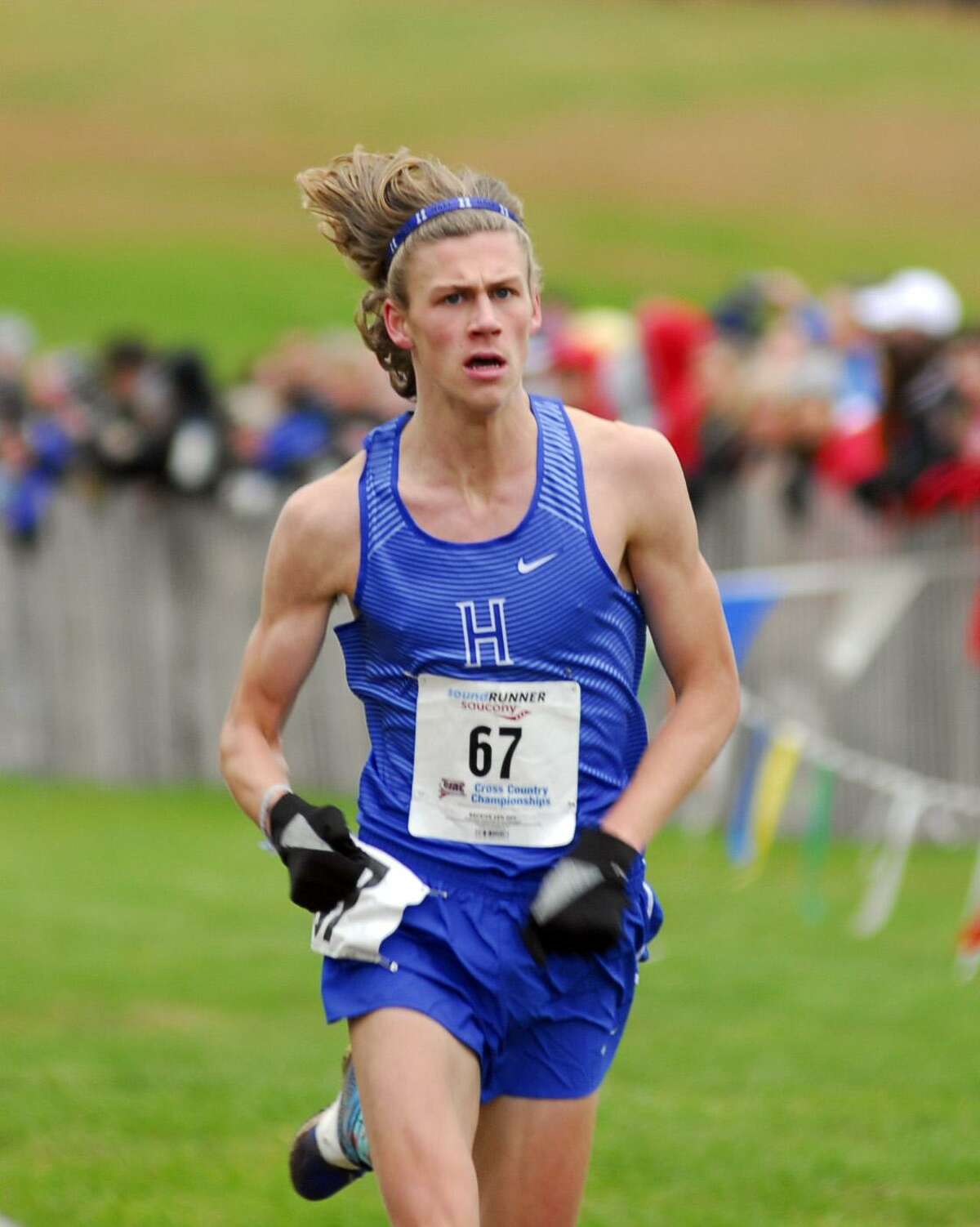 Compiled by Ryan Lacey and Dan Nowak
Class L
New Milford's Nahom wins 3rd-straight; Xavier takes team title
Xavier's birds of prey surrounded the top spot in the Class L boys race on Saturday, but the leader wasn't about to let in.
Pulling away on the hill that defines the Wickham Park course, New Milford senior Eli Nahom won his third straight Class L title, setting a school record at the course in 15:55. The race began Friday's championships with the quickest male time of the day.
"I'm happy with how it went," said Nahom. "I feel like there might have been more pressure coming into this because it would have been my third win. I made a little move going up the green monster; I looked back a few times (."
The Falcons finished second through fifth — Robbie Cozean (16:06), Peter Schulten (16:14), William Curran (16:19) and Dillon Selford (16:21) — to easily dominate the team title. Xavier posted a score of 26, well ahead of second place Bristol Central. Newington (106), Pomperaug (143) and New Canaan rounded out the top five.
"Going No. 2-5 is the best scenario that could have happened for us," said Xavier coach Chris Stonier, whose team won the Class LL and State Open titles last year. "I assume Eli made his move up the hill; having three of your teammates around you quite possibly they went into team mode rather than individual chase."
Xavier moving down to Class L provides a much more competitive field for Nahom, who pushed up the green monster and away from the flock of Falcons. The SWC race winner was pleased with his time heading into the State Open.
FCIAC champion Andrew Malling finished seventh with a time of 16:34 while Middletown's Matthew Lecky finished ninth in 16:44. Xavier's No. 5 runner, Eamon Burke, notched a 12th-place finish.
Class LL
Hall's Anderson edges Conard's Sherry; Staples' depth prevails
The incredible battle between Hall senior Miller Anderson (15:57) and Conard freshman Gavin Sherry (15:59) continued in another dramatic finish in the Class LL championship. Anderson closed strong to win while Sherry overtook Shelton's Robert Dillon (16:00) in the final moments to finish second.
The trio remained tight the entire race before Anderson's kick with 100 meters to go provided just enough cushion to win. Anderson and Sherry have already raced five times this season with the senior earning his second win.
"When you come up to the finish everybody's screaming," Anderson said. "And you don't know if it's for me or the guys around me. I was thinking do I need to go to the next year hoping that I had the next year. I looked back a few times just to make sure."
Anderson remained in the lead pack early on without anyone taking hold of the race.
"The pack just rolled the whole time," Anderson said. "The green monster was pushed really hard so that hurt a little, I lost about two seconds. But the last mile I thought it was only two seconds, I made up four seconds at the Wickham Invite."
It was the depth of Staples that prevailed in the team battle as the Wreckers won by nine points with a score of 78. Hall posted 87 while Danbury was third with 144. Shelton (194) and Warde (195) rounded out the top five.
"One of the things we said before the race started was that if we wanted to do well we had to stay close together," Staples coach Laddie Lawrence said. "I don't know what our grouping was but it must have been pretty good; everyone had a good race."
Anderson's teammate Trey Cormier finished fourth in 16:03 while Wreckers teammates Mayo Smith (16:18), Morgan Fierro (16:25) and Nicholas Taubenheim (16:28) finished sixth, seventh and ninth respectively.
"Hall has this 1-2 punch up front that is really strong," Lawrence said. "And they went by me in 1-2 with 600 meters left. It was close; you run a meet like this is and a nine-point difference is not much at all."
Class M
Suffield's Englander kicks way to crown; Sutton leads Tolland to team title
A strong late kick proved to be the difference for Kyle Englander of Suffield who won in 16:22. Nick Sinofsky of Suffield was second in 16:27 and Stephen Sutton of Tolland was third in 16:29.
"I was in a pack of runners for most of the race," Englander said. "When I saw one of the Tolland runners surge ahead I decided to take off too. I took the lead with about a mile to go.
"I didn't look behind and didn't realize how close the other runners were behind me.
"Last year I was fourth in this race and the difference this year is the entire team effort, everyone pushing you to do better. That's why I have team written on my arm."
Matt Jennings of Haddam-Killingworth was 10th in 16:42.
Tolland won the team title with 30 points, Suffield was second (37), Brookfield was third (113) and Haddam-Killingworth fourth (126).
Class MM
East Lyme's Whitaker erases 2017 memory, leads Vikings to crown
Sam Whitaker of East Lyme finished a disappointing third in the Class MM race in 2017 and he was determined to have a better outcome in 2018.
And he did.
Defending champion Anthony Golino of New Fairfield took the early lead. But with one and a half miles to go Whitaker made his move, took the lead and won the race in 16:25. Christopher Abbey of East Lyme was second in 16:38 and Golino was third in 16:59.
"I let Anthony lead the race until we got to the big hill with about a mile and a half to go," Whitaker said. "At that point I took the lead and pushed hard at the end. I had a bad race last year, I should have won. I wanted to come back and run my race and avenge that loss. Itfeels good to get it done."
East Lyme won the team title with 53 points, E.O. Smith was second with 118 and Barlow was third with 122.
Class S
Old Saybrook's Henderson wins; Bolton team champ
With their passionate teammate support flying around a white flag across Wickham Park, Bolton claimed the Class S title after coming within four points a year ago. Bolton scored 57 points while Terryville took second in 68.
Old Saybrook's Shane Henderson won with a time of 16:37 while Terryville's Chris Deforest was second in 16:46. A trio of Bolton runners finishing together — Lucas Carini, Michael Barrett and Kevin Brudz — rounded out the top five.
Class SS
Nonnewaug's Nicholas finishes strong; Immaculate wins 1st team titles
The game plan for Eddie Nicholas of Nonnewaug was to start slow and finish fast for the win.
And he did.
Nicholas led start to finish to win the race in 16:08 over the 3.1-mile course at Wickham Park in Manchester.
"The plan was to take the early lead but to pace myself, go out slow and pick it up the last two miles or so," Nicholas said. "And that's what I did. I didn't do so well in this race last year but I won this easy today."
Nicholas finished 15th in the race in 2017.
Heath Olivieri of East Catholic was second in 16:30 and Michael Stamm of Northwest Catholic was third in 16:49.
Immaculate, the runner-up last year, won the team title with 60 points. Drew Mitchell was the top Immaculate runner, finishing eighth in 17:24. East Catholic was second with 68 points.
"This is the boys first team title ever, and it's a great feeling," Immaculate coach Brian Hayes said. "We thought we would win it last year but it all came together for us this year. There were no surprises. All our runners did as well as we expected."